Naruto German House [
鳴門市ドイツ館

]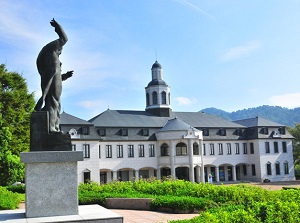 Naruto German House
Photo by Tokushima Prefecture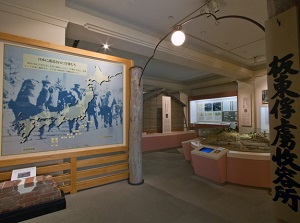 Museum in Naruto German House
Photo by Tokushima Prefecture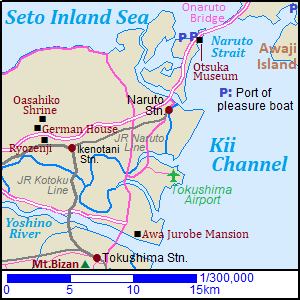 Naruto German House is a museum on the historic place which linked German people to Japanese people.
It is called "Naruto-shi Doitsukan" in Japanese and "Das Deutsche Haus Naruto" in German.
It is in Bando town located about 0.8 km northwest of Ryozenji temple and 12 km west of the center of Naruto city.
Japan entered World War I in 1914.
Japan attacked Qingdao in China where was leased territory of Germany, and took about 4,700 German soldiers captive.
About 1,000 people of them were send to prison camp in Naruto city in 1917.
The camp was on the current German House.
The Japanese staffs in the camp respected the prison's human rights, so it became an honor camp.
Most of the Germen prisons were the volunteers, and were originally various workmen.
So they had constructed a town with shops, restaurants, library, post office, etc. in the camp.
And they conducted various cultural activities.
Especially, playing music was active, so the concerts were held over 100 times.
On June 1, 1918, they performed Beethoven's 9th Symphony in this camp.
(It was composed in 1824 and is one of the greatest works of Beethoven.
The chorus of "Ode to Joy" in the 4th movement is well-known in the world.)
That was the first day when the famous symphony was played in Japan.
Of course, Japanese audience was only the staff of the camp.
They made friends with the neighborhood.
And they taught various German cultures such as baking bread, making German cake, cattle breeding, etc.
They were returned back to home in 1920.
After that, it is said that whole people in Bando town missed them.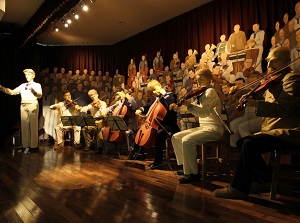 Theater of the 9th Symphony
Photo by Tokushima Prefecture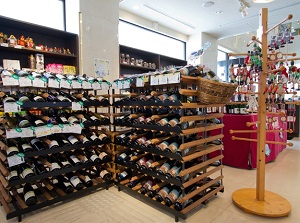 Shop of German products
Photo by Tokushima Prefecture
In 1972, this museum was built as a memory of the exchanges between German prisoners and the Japanese people in this area.
Some prisoners were from Lüneburg in northern Germany, then Lüneburg city and Naruto city have established a sister city relationship since 1974.
The current building was rebuilt in 1993.
This museum introduces their daily life, and displays their products.
And the play of the 9th symphony is reproduced using dolls.
Taking pictures is prohibited in the museum.
How to get here
On foot, about 15 minutes walk from Ryozenji temple.
By route bus for Itano-eki, about 29 minutes from JR Naruto station to Doitsukan stop.
Hotels around Tokushima city
Other Tourist Attractions in Tokushima Prefecture