Ôboke & Koboke gorges [
大歩危, 小歩危

]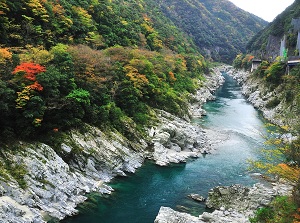 Oboke, Koboke gorges
Photo by Tokushima Prefecture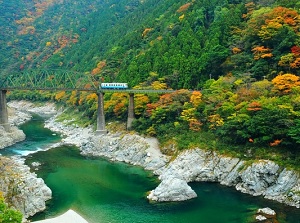 JR Dosan Line along Oboke, Koboke gorges
Photo by Tokushima Prefecture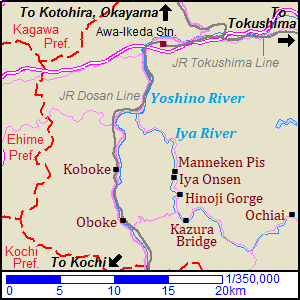 Ôboke and Koboke are the deep gorges formed by Yoshino River.
They are located near the western edge of Tokushima Prefcture, about 90 km west of Tokushima city, about 40 km south of Kotohira town, and about 50 km northeast of Kochi city.
These gorges are in the deep mountain, and Yoshino River flows from south to north.
Ôboke gorge is in the upstream area and Koboke gorge is about 6 km below Ôboke.
Two different names have been given to the gorges, but there are steep rocky cliffs and fast flows of Yoshino River continuously in the section between both gorges.
These gorges have been formed by the erosion of Yoshino River for over two hundred million years.
They been on one of the few routes connecting Seto Inland Sea side and Pacific Ocean side in Shikoku Island.
This section has been a traffic chokepoint since ancient times.
Ôboke has very rough rocks and river flows with a volume of water.
Koboke is narrower, more winding, and faster river flows than Ôboke.
And, it is said that the flowing speed of the river in both gorges is the fastest in Japan.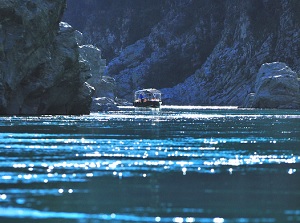 Pleasure boat in Oboke, Koboke gorges
Photo by Tokushima Prefecture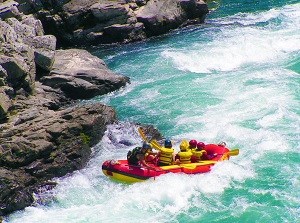 Rafting on Yoshino River
Photo by Tokushima Prefecture
Around Ôboke, small pleasure boat is operated.
We can enjoy the scenery on the boat for about 30 minutes.
Around Koboke, we can enjoy rafting.
Many tour companies organize the rafting tours for beginners in Koboke.
To visit these gorges, it is convenient to use JR Dosan Line.
Because the railway runs along the river, you can see the gorges on the running train.
There are Ôboke station and Koboke station.
The limited expresses stop Ôboke station, but only local trains stop Koboke station.
The boarding point of pleasure boat is about 1.5 km north from Ôboke station.
How to get here
By JR limited express, to Ôboke station, about 1 hour and 35 to 45 minutes from Okayama, about 1 hour and 20 to 30 minutes from Takamatsu, about 45 minutes from Kotohira, about 50 minutes from Kochi.
Hotels around Miyoshi city
Other Tourist Attractions in Tokushima Prefecture