Noboribetsu hot spring resort [
登別温泉

]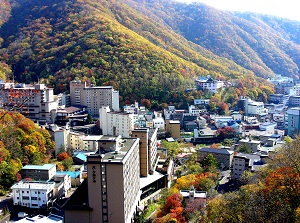 Town of Noboribetsu Onsen
Photo by Noboribetsu Tourist Association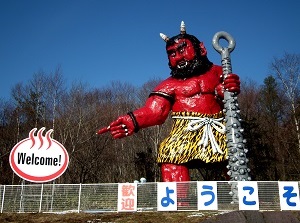 Oni, symbol of Noboribetsu
Photo by Noboribetsu Tourist Association
Noboribetsu hot spring ("Noboribetsu onsen" in Japanese) is one of popular hot spring in Japan.
It is located about 25 km southeast of Lake Toya and about 40 km southwest of Lake Shikotsu.
The hot springs resort area is along a river in the bottom of the valley.
In this area, much hot waters with nine different kinds of spring quality are gushing out.
It is said that such hot spring is unique in the world.
There are more than a dozen hotels and ryokans with the bath using such hot water in this area.
In addition, "oni" is the symbol character of this town.
It is a supernatural ogre in Japan.
There are some sightseeing spots around here.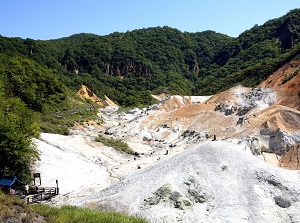 Jigokudani
Photo by Noboribetsu Tourist Association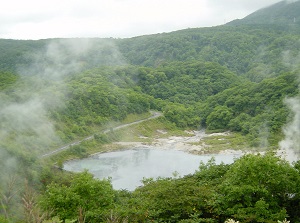 Ôyunuma
Jigokudani [
地獄谷

]

Jigokudani is a valley where hot spring, vapor or volcanic gas are spewing.
The hot water is used as the bathwater of each hotel.

It is located on the northeastern fringe of the town.

Jigokudani means "valley of hell" in Japanese, and surely this valley looks like a hell.
Ôyunuma [
大湯沼

]

Ôyunuma is a explosion crater filled with hot water, and is located 0.6 km north of Jigokudani.

It is a muddy pond about 1 km in circuit, and is 22 meters deep.
The surface temperature is 40 to 50 degrees C, but the temperature is 130 C degrees in the depth of the pond.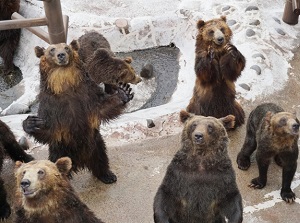 Bear Park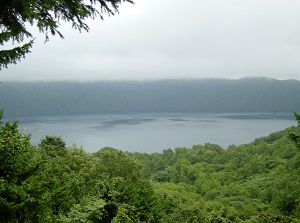 Lake Kuttara
Bear Park [
クマ牧場

]

Bear Park is a zoo of brown bares, and is located 1.5 km east of the town and on the top of mountain.
You can visit there from hot spring town by ropeway.

There are more than 100 brown bears here, and we can enjoy some attractions with bears.

Additionally there are two museums concerning bears and Ainu.

We have a view of Lake Kuttara (倶多楽湖) which is located eastern side of the mountain.
It is a complete round crater lake 2.5 km in diameter and the water is very clear.
How to get here
By limited express to JR Noboribetsu station, about 1 hour and 20 minutes from Sapporo, about 2 hour and 15 minutes from Hakodate.
Then, by route bus, about 15 minutes from JR Noboribetsu station.
Or, by express bus, about 1 hour and 40 minutes from JR Sapporo station.
About 1 hour from Shin-Chitose Airport
Hotels in Noboribetsu Onsen
Other Tourist Attractions in Southern Hokkaido