The southwestern part of Hokkaido Island is called "Donan".
It includes Sapporo city.
There is Oshima Peninsula like a tail of fish in the southwest part.
And, the region to the south of Sapporo and the peninsula are mountainous.
Some cities are around Sapporo, but there are only a few cities in the other area.
But Hakodate and Otaru is the historic cities.
And there are a few active volcanos and the lakes created by the volcanos.
They are the famous scenic spots.
In Addition, there are popular ski resorts such as Niseko in this region.
Because the coastline curves widely, the routes of the railway and main roads make a detour.
And, the route connecting Sapporo and Hakodate is basically only one which runs along the round bay (Uchiura Bay).
Therefore, it takes time to travel around this region.
Tourist Attractions in Southern Hokkaido
Hotels in Southern Hokkaido
Transportation
Railway
To Hakodate from Tokyo : By Shinkansen, 4.0 to 4.5 hours.
To Hakodate from Sapporo : By JR limited express, 4 hours.
To Otaru from Sapporo : By JR local train, 50 minutes.
Express bus
To Hakodate from Sapporo : 5.5 to 6.0 hours.
To Otaru from Sapporo : 70 minutes.
To Niseko from Sapporo : 3.0 to 3.5 hours.
Airport
Main events in Southern Hokkaido
Hakodate morning market (Every day)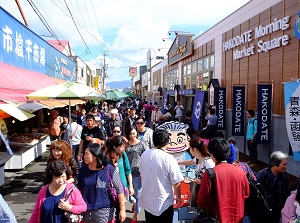 Hakodate morning market is one of famous ones in Japan.
It is called "Hakodate Asaichi" in Japanese.
It is located close to the JR Hakodate station, and there are over 100 Most shops sell fish or marine product, and the other shops sell vegetables, meat, etc.
The opening time is 5:00 in the morning (6:00 in winter) every day, and most shops close at 12:00.
Otaru Yuki-akari no Michi [Otaru Snow Light Path] (Early February)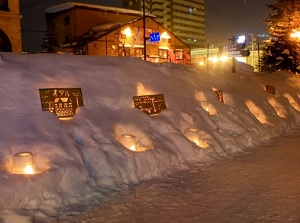 It is an event held mainly in canal area, Temiya Line area and Asarigawa Onsen area in Otaru city.
It has been held since 1999.
Many candles are put on the snow along the street, and fantastic candlelight illumine the snow.
This event is held for ten days every year, and lightning is at 17:00 every day.
Local foods and products in Southern Hokkaido
Sashimi of ika (squid) in Hakodate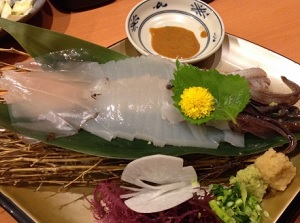 Hakodate is a base fishing port in southern Hokkaido.
So a lot of fish are landed.
Therefore we can eat many fresh fish here.
Especially, ika (squid) provides the greatest share of fish catches.
Many Japanese say "Eat squid at Hakodate, when you travel there".
It is served by chopped the body of a raw squid into thin strings, which is milky white and semi-transparent.
Additionally the sashimi chopped particularly thin is called ika-somen (Somen is a kind of Japanese thin noodle).
Generally sashimi is dipped in shoyu (soy sauce) with wasabi in Japan, but this is dipped in light shoyu and grated ginger in Hakodate.
Sushi in Otaru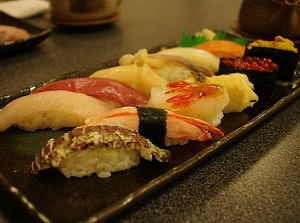 Sushi in Otaru (IMGP1231, Photo by darashi)
Sushi is a popular Japanese food and you can eat it everywhere in Japan.
Otaru is the oldest harbor city in Hokkaido, and very fresh fishes are caught in the Sea of Japan around Otaru.
When Otaru Canal was renovated in 1986, current "Sushi bar street" is formed, then many sushi bars were opened.
Now, there are about 120 sushi bars in Otaru.
As the fish for sushi, "shako" (mantis shrimp), fresh "uni" (sea urchin) and "nishin" (herrings) are distinctive.