Tourist Attractions in Otaru
Otaru is an old harbor city facing the Ishikari Bay.
It is located about 30 km west‐northwest of Sapporo city.
Around the end of the 16th century, Japanese people found a good fishing ground of herring around this place.
Then, a port was built here, and a coastal route of the Sea of Japan between Otaru and western Japan started.
(At that time, Hokkaido Island was an uncivilized place.)
The ship carried everyday goods and fishing equipments from western Japan, and brought back seafoods like herring, salmon and konbu (seaweed) from here.
Then, Otaru developed and became a hot town.
But since the beginning of the 20th century, herring catches decreased dramatically due to overfishing.
At last, no herring has been caught after the 1950s.
Since that, Otaru has become a city without spirit.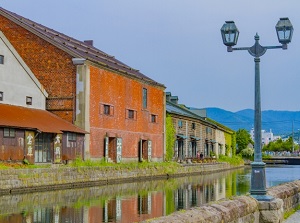 Otaru Canal
But there are many old buildings built in the lively age (from the 1880s to the 1920s), therefore a lot of tourists are attracted.
Now Otaru is one of the popular cities for sightseeing in Hokkaido.
The main area spreads between the port and JR Otaru station.
To tour around these spots, Otaru Sansaku Bus (Otaru Stroller's Bus) is operated every 30 minutes from JR Otaru station.
And most spots are within 2 km, so many tourists walk around the city.
Sushi is the popular Japanese dish, and Otaru is known for sushi.
In the city, there are tens of sushi restaurants, and some say "When you visit Otaru, you should eat sushi there".
How to get here
By JR local train, 50 minutes from Sapporo.
By express bus, 70 minutes from Sapporo.
Hotels in Otaru
Other Tourist Attractions in Southern Hokkaido