Sapporo is the prefectural capital of Hokkaido, and is located at the southwest of the center in Hokkaido Island.
The population is about 1.9 million.
Over one third of the population of Hokkaido (About 5.4 million) concentrates in this city.
It has been political, economic and cultural center of Hokkaido.
And it has some historic spots of pioneer days.
Sapporo city has subway, streetcar and route bus.
And several bus tours touring around main spots are set up.
From Shin-Chitose Airport to Sapporo, it takes about 40 minutes by rapid train of JR.
And many route buses to Sapporo are operated.
Tourist Attractions in Sapporo
Central part of Sapporo city
Around Sapporo city
Transportation
To Sapporo
From Shin-Chitose Airport,
40 to 55 minutes by JR train
60 to 80 minutes by Express bus
In Sapporo
Subway, streetcar and bus are operated.
To Sapporo, it takes about 40 minutes by JR rapid train.
And many buses to Sapporo and some other city are operated.
Main events in Sapporo
Sapporo Snow Festival (Early February)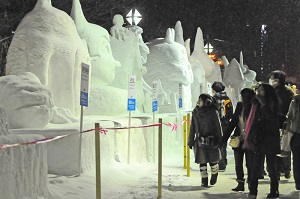 It is the biggest festival of Hokkaido Prefecture in winter.
More than 300 big snow statues are made.
Most of them are modeled after famous buildings or popular characters.
It is held every year since 1950, and attracts two million visitors recently.
It is held for about 7 days at Odori Park, Susukino and Sapporo Community Dome.
Yosakoi-Soran Festival (Early June)
It is the popular festival that many teams consisting of tens of people dance to the folk music of Hokkaido "Soran-bushi".
A student living in Hokkaido watched the Yosakoi Festival at Kochi city, and he began the similar and lively team dance in 1992.
Since then, it has explode in popularity of young people, so it has become one of big festivals in Hokkaido.
Like Yosakoi dance, all dancers dance with "naruko" like a castanet.
Sapporo White Illumination (From late November to the middle of February)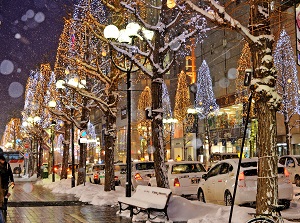 In every winter, Odori Park and the street between Sapporo station and Susukino are decorated with a lot of illumination lamps.
The lamps are lighted from around 16:30 to 22:00 or 24:00.
In Odori Park, The German Christmas Market is held in the illumination from late November to Christmas Eve (December 24).
But, this event in Odori Park ends at the day of Christmas, because the preparations of Snow Festival in February began to make snow statues.
Local foods and products in Sapporo
Sapporo ramen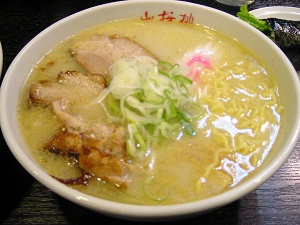 Sapporo ramen is regarded as one of Japanese 3 big ramen (Chinese noodle developed in Japan).
(Other 2 ramen are "Kitagata" and "Hakata")
The noodle is deep yellow and thick.
Commonly fried bean sprout are topped, and sometimes butter and corn are added.
Sapporo ramen was born and developed in Sapporo, but it is currently one of the main type of ramen in Japan, so we can find many restaurants of "Sapporo ramen" all over Japan.
Of course, there are a lot of restaurants in Sapporo.
Especially there are some famous restaurans along the Sapporo ramen yokocho.
Soup-Curry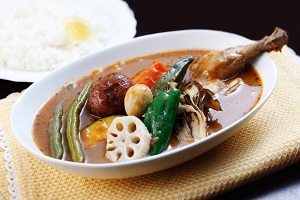 Soup-Curry is the curry-flavored soup, and is similar to the curry of southern India or Southerneast Asia.
Originally it began to serve at a curry restaurant in Sapporo in the 1970s, then started a boom among young ladies in the 1990s, because some smart restaurants began to serve it.
Japanese people love curry, but we can find curry-soup almost at only Sapporo.
In 2008, "Soup curry yokocho" which has some soup-curry restaurans has opened near Nijo market.
Jingisukan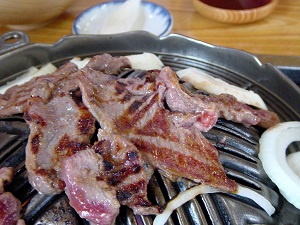 Jingisukan is a barbecue on hemispherical iron plate.
Commonly mutton or lamb and vegetables are cooked.
You can eat not only in Sapporo but also in whole Hokkaido.
Jingisukan is the Japanese name of the medieval Mongolian hero "Genghis Khan", but there is no connection to the hero.
Meats are cooked on the hemispherical part.
And vegetables are cooked at the foot of the hemispherical part.
During the cooking, the tasty juice of the meat flows down and vegetables are seasoned automatically.
Official websites of Sapporo