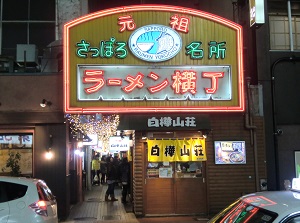 Entrance of Ganso Ramen Yokocho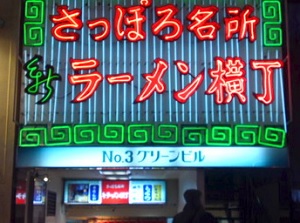 Entrance of Shin Ramen Yokocho
Ramen is a popular Japanese noodle and "Sapporo Ramen" is one of the three major ramens in Japan.
(The others are "Hakata Ramen" in Fukuoka city in Kyushu island and "Kitagata Ramen" in Fukushima Prefecture in Tohoku District.)
Therefore, there are many ramen restaurants in Sapporo.
Ramen Yokocho means "small alley of ramen restautants".
There are two Ramen Yokochos in Susukino district, and each alley with the ramen restaurants is in the first floor of a building.
Both Ramen Yokocho are located near each other.
One is Ganso Ramen Yokocho.
It has more than a dozen restaurants.
"Ganoso" means "original" or "first", and it was opened in 1971.
The other is Shin Ramen Yokocho.
The building of the restaurants is located just north of the block of Ganso Ramen Yokocho.
It has 4 restaurants.
"Shin" means "new", and it was opened in 1976.
Additionally, there is Sapporo Ramen Kyowakoku (meaning "Republic of Ramen") on the 10th floor in ESTA (a commercial building) at JR Sapporo station.
It is a theme park with 8 ramen restaurants.
Half of the restaurants are from Sapporo, but the others are from Hakodate, Asahikawa, and so on.
It is said that there are over 1,000 ramen restaurants in Sapporo city.
It is good to enjoy choosing a restaurant in Ramen Yokocho.
How to get here
Get off at Susukino station of subway.
Both Ramen Yokochos are near the station.
Hotels in Sapporo
Other Tourist Attractions in Sapporo
Central part of Sapporo city
Around Sapporo city