Mount Moiwa (Moiwayama) [
藻岩山

]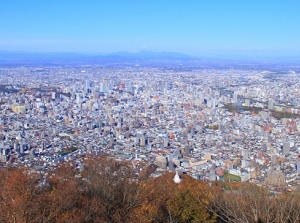 Scenery of Sapporo city from the the top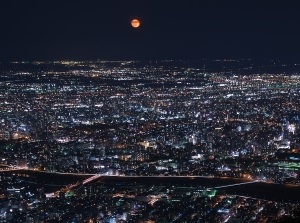 The moon and night view from Mt.Moiwa
Mount Moiwa is a mountain located about 7 km south-southwest of central Sapporo.
It is called Moiwayama in Japanese.
It is 531 meters high.
It is covered with deep forest, and rich nature remains although it is close to the big city.
The view on the top is very wonderful, so it is one of the popular observatory in Sapporo.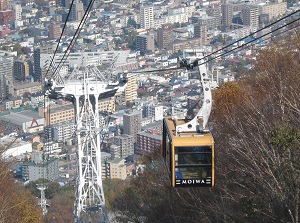 Ropeway to Mt.Moiwa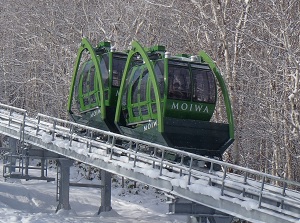 Small cable car to the top
You can go up to mountain by ropeway and small cable car.
First, the ropeway brings us to the mountainside. ("Chufuku" station). There are an observatory and a souvenir shop.
From there, small cable car brings us to the top of mountain.
On the top, there are main observatory and a restaurant.
Of course, you can climb the mountain on foot.
There are some routes to climb. (The length is from 2.4 km to 4.5 km.)
The view from there is good.
Especially, the night view is very beautiful.
The ropeway is operated until 21:30. (The last ropeway from Chufuku station starts at 22:00.)
How to get here
By streetcar, get off at Ropeway-iriguchi station.
About 25 minutes from Susukino station, about 30 minutes from Nishi-yonchome station near Odori Park.
Then, there is the shuttle bus stop near the station.
The free shuttle bus goes to the station of ropeway within 5 minutes. (It is operated every 15 minutes.)
Hotels in Sapporo
Other Tourist Attractions in Sapporo
Central part of Sapporo city
Around Sapporo city