Jozankei hot spring resort [
定山渓温泉

]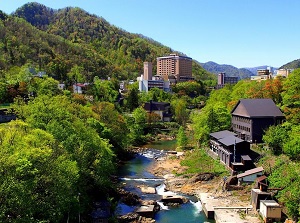 Jozankei Onsen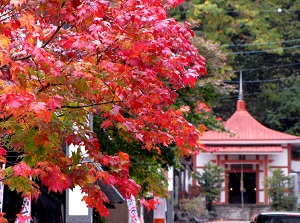 Autumn leaves around a temple
Jozankei hot Spring resort is a hot spring resort located 20 km southwest of central Sapporo.
In Japanese, first "o" is a long vowel, and is called as "Jôzankei Onsen".
There is the resort area in the upper reaches of Toyohira river.
And it is in a valley.
There are more than 20 hotels and ryokans around here.
The hot water springs from the bottom of Toyohira river, and the water is clear but contains a little salt.
Each hotels use the salty water for the bath.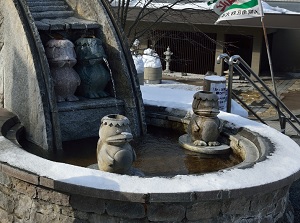 Statues of Kappa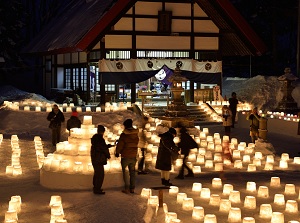 Jozankei Yukitouro
This resort uses a symbol of "Kappa", which is a funny imaginary creature living in water.
You find some statues, dolls or pictures of Kappa in the resort area.
Because it is close to Sapporo, many tourist visit here every year.
Of course, you can stay here.
And you can make a day trip for enjoying the bath.
At the beginning of February, the candle event "Jozankei-Yukitouro" is held around Jozankei Shrine in the resort town.
The snow road is illuminated by the fantastic lights of a lot of candles.
How to get here
By route bus, about 70 minutes from JR Sapporo station.
Hotels in Jozankei Onsen
Other Tourist Attractions in Sapporo
Central part of Sapporo city
Around Sapporo city