The eastern Hokkaido is the region of east half of Hokkaido.
This region is called "Doto" in Japanese. (Both "o" are long vowel, so it is pronounced as "Dôtô".)
A steep mountain range runs across the center of Hokkaido from north to south. Doto region extends on the east side of the mountain range.
The area is mainly hilly, but there are some plains.
There are two volcanos which formed Lake Akan in the center of the region, and a mountain range extends toward northeast from there to Shiretoko Peninsula.
The south coast of the region faces to the Pacific Ocean.
And the north coast including Shiretoko Peninsula faces to the Okhotsk Sea.
Masses of drift ice come to the north coast from the middle of January to late March every year, and it is a common feature of this area in the winter time.
This region has relatively less snow than the other areas in Hokkaido in winter.
Because, the snow clouds from the northwest are blocked by the mountain range in the center of Hokkaido.
Instead, the temperature in this region is very low.
This region has a small population.
There are only six cities in this wide area.
Most parts of this region are wasteland, woodland and wetland.
There are only a few main railway lines in this region.
And the expressway is set up from Sapporo to Obihiro area, but there is no expressway in the other area.
Therefore, it takes time to travel around this region.
Tourist Attractions in Eastern Hokkaido
Hotels in Eastern Hokkaido
Transportation
Railway
To Abashiri from Sapporo : By JR limited express, 5.5 hours.
To Abashiri from Asahikawa : By JR limited express, 4 hours.
To Obihiro from Sapporo : By JR limited express, 2 hours 40 minutes.
To Kushiro from Sapporo : By JR limited express, 4 hours.
To Nemuro from Kushiro : By JR local train, 2 hours 10 to 30 minutes.
To Abashiri from Kushiro : By JR local train, 3 hours
Express bus
To Abashiri from Sapporo : 6 hours.
To Obihiro from Sapporo : 4 hours.
To Kushiro from Sapporo : 5.5 hours.
Airport
There are five airports in this region.
All of them have the flights from Shin-Chitose airport (Sapporo) and Haneda airport (Tokyo).
But there is no flights between the airports in this region.
Main events in Eastern Hokkaido
Abashiri Okhotsk Ryuhyo Festival (Every early February)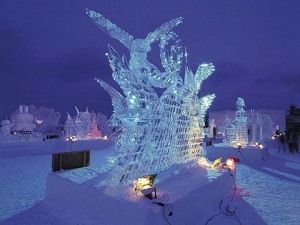 Abashiri Okhotsk Ryuhyo Festival is one of popular winter festivals in eastern Hokkaido.
It is held for three or four days at the just time that ryuhyo (drift ice) covers the sea around Abashiri, and the main venue is around the Abashiri port.
Dozens of snow and ice sculptures are built, and they are lit up by the colorful lights in the evening.
On a stage near the sculptures, concerts, local traditional performances, TV characters show for children and other events are performed every day.
Marimo Festival (Every early October)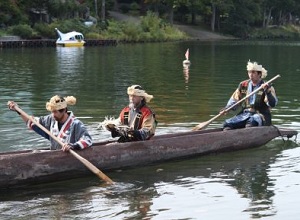 Marimo Festival is the biggest event of Lake Akan, and has been held every year since 1950.
Marimo is spherical moss, and it is the symbol of religious belief for Ainu people around Lake Akan.
By rapid increasing of tourist, marimo in Lake Akan was in danger of extinction.
This festival started as a part of protection activity of marimo.
The festival has three days.
The first day is the eve, so Ainu people performs their traditional songs and dances.
In the next day, a boat with marimo comes from the lake.
The marimo is placed in the Ainu-kotan, then a ritual ceremony are done.
In the last day, the marimo is returned into the lake by boat.
Local foods and products in Eastern Hokkaido
Butadon in Obihiro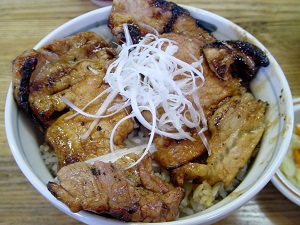 Butadon is a bowl of rice topped with sliced pork, so it is a similar dish to "gyudon" topped with sliced beef.
("Buta" means "pig" in Japanese, but is often used as the meaning of "pork".)
Recently most gyudon chain stores across Japan serve the "butadon" in addition to "gyudon". But they only replace beef with pork.
Buta-don in Obihiro is different.
Pork is sliced a little thicker.
Then, it is grilled, not stewed like gyudon.
Basically onion is not used.
Grilled pork is combined with salty-sweet sauce of shoyu (soy sauce) and sugar, and they are topped on hot rice in a bowl.
There are many buta-don restaurants in Obihiro city.
Hanasaki crab in Nemuro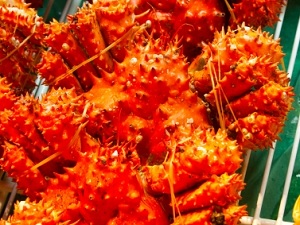 Hanasaki crabs make their habitat to the east of Hokkaido.
Because they are caught landing on Hanasaki port in Nemuro city, they are called "Hanasaki crabs". ("Hanasaki-gani" in Japabese)
Hanasaki crab is not a kind of "crab" but "hermit crab", because it has eight arms.
It becomes bright red after cooking in boiling water.
The taste is a little thicker than the other clabs in Hokkaido.
It has many pointed prickles and hard shell.
So, when you eat boiled one, you should concern about avoiding injury.