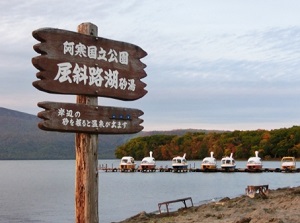 Lake Kussharo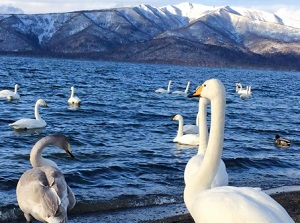 Lake Kussharo in winter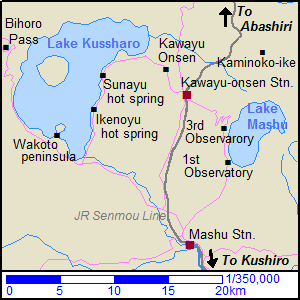 Map around Lake Kussharo
Lake Kussharo ("Kussharo-ko" in Japanese) is a freshwater caldera lake located about 10 km west of Lake Mashu.
It is on the the biggest caldera lake in Japan.
It is about 6 kilometers from east to west and about 12 kilometers from north to south.
The depth is 117 meters.
There is a volcanic island (Nakajima) in the center of the lake.
It is the largest island of caldera lake in Japan.
Lake Kussharo has acidic water, so few fish are living in this lake.
But in 1973, there was a rumor that a monster lived in the lake.
There were some testimonies of eyewitnesses, but all of them are uncertain.
They gave the monster the name of "Kusshii", after naming of Loch Ness's "Nessie" in Scotland.
Recently, there is no rumor that Kusshii appeared.
Because this lake is in a caldera, there are hot springs here and there on the lakeside.
If you make a hole in the ground, hot water rises.
Particularly there are a few hot spring spots on the east and south lakeside.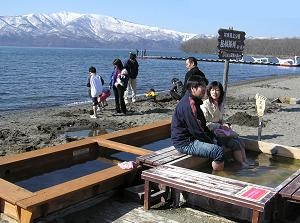 Footbath of Sunayu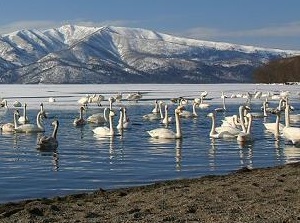 Sunayu in winter
Sunayu (
砂湯

)

Sunayu is on the east coast and is located about 8 km west of Kawayu Onsen resort.
There are restaurants, souvenir shops and a campsite.

If you make a hole in the sandy beach, hot water rises and you can have a bath easily.
Of course, a footbath is set up on the beach, so you can enjoy the warm water.

In winter, the lake around Sunayu doesn't freeze because of hot water.
So many swans come around this area.
You can see the swans close to you.
Ikenoyu (
池の湯

)

Ikenoyu is a round pond about 15 meters in diameter.
It is located about 3 km south of Sunayu.

It is a mixed bathing hot spring and there are two boxes for dressing (For men and for women) near the pond.

You can freely have a bath.
The temperature of the water is about 38℃.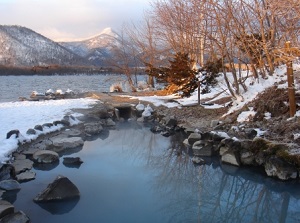 Outdoor bath at Wakoto Peninsula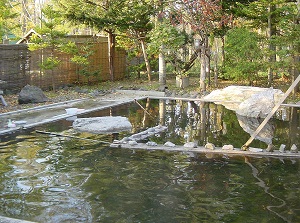 Outdoor bath in Sanko Onsen
Wakoto Peninsula (
和琴半島

)

At the south end of the Lake, there is a small peninsula that a small island connected with the lakeside.

It is Wakoto Peninsula.
Walking trail around the peninsula is set up, and there are souvenir shops at the entrance.

There are a few mixed bathing hot springs around the peninsula, of course, you can have a path freely.

And there is Sanko Onsen (三香温泉) to the south of the peninsula.
There is a ryokan and it has an outdoor bath in the site.
How to get here
A route bus is operated between Wakoto Peninsula and JR Mashu station.
But only 2 service a day (early morning and late afternoon).
It takes 35 minutes.
There is no public transportation to the east coast of the lake.
You can reach Kawayu Onsen resort by route bus. So, to visit here, you must use a rental car or taxi.
This spot is in Teshikaga town.
The town is operated a route bus for tourist using Teshikaga Eco Passport.
It is operated around Lake Mashu, Kawayu Onsen and Lake Kussharo within a certain period of time in summer and late winter.
Please check the official website.
There is also a way to use regular sightseeing bus from Kushiro.
The sightseeing bus and above route bus are operated by Akan Bus company.
Hotels around Lake Kussharo
Other Tourist Attractions in Eastern Hokkaido