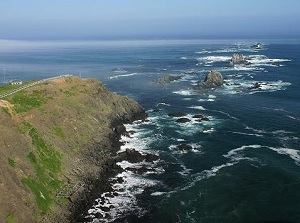 Cape Erimo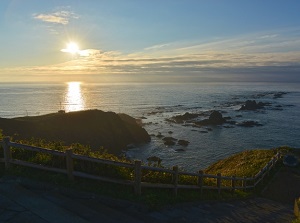 Sunrise at Cape Erimo
Cape Erimo ("Erimo-misaki" in Japanese) is a cape located about 110 km south of Obihiro city.
It is a sharp corner at the center of bottom on a map of Hokkaido.
Hidaka Mountains run from north, and they fall into the Pacific Ocean at this cape directly.
Therefore, steep cliffs surround the cape, and rock reefs run from the cape to 7 km off the coast.
It is windy at most days of year around this cape, and fog often rises.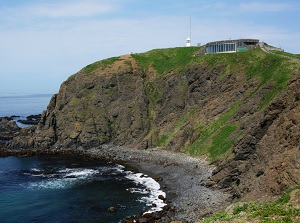 Lighthouse and Kaze-no-Yakata

Tip of Cape Erimo
There is a lighthouse on the tip of the cape.
And there is the museum about the wind Kaze-no-Yakata near the lighthouse.
The museum introduces various knowledge about wind and the history of people living around the cape.
And you can enjoy the view of the cape at the observatory in the museum without strong wind.
Around the cape, harbor seala live.
You may be able to see them through a telescope on the observatory.
There is a walking trail from Kaze-no-Yakata.
It leads to the tip of the cape.
In addition, konbu (edible kelp) around this cape is one of the main production areas. (The brand name is "Hidaka-Konbu".)
In the souvenir shop, dried Hidaka-Konbu is sold.
How to get here
From Obihiro
By route bus, from Obihiro station to Hiroo, about 2 hours and 20 minutes.
After changing to another bus at Hiroo, to Cape Erimo, about an hour.
From Sapporo
Express bus is operated one round services per day. (All seats are reserved.)
It departs from Sapporo station at 16:30 and departs from Cape Erimo at 5:30.
It takes 4 hours.
Hotels in Obihiro
Other Tourist Attractions in Eastern Hokkaido