Kaiyodai observatory [
開陽台

]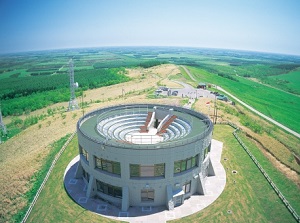 Kaiyodai Observatory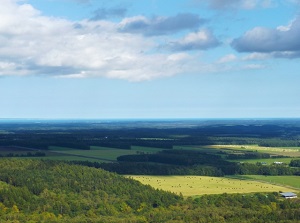 A view from Kaiyodai
There are huge expanses of plains in the east part of Hokkaido.
The area is surrounded by Notsuke Bay, Kushiro Marsh and the mountains between Lake Mashu and Shiretoko Peninsula.
It is called Konsen-Genya, and it is a poor land with volcano ash in a cold climate.
Because the land is unfit for cultivation, it is used for dairy farming.
Kaiyodai is a 271-meter hill in the north part of the land.
There is an observatory building on the top of the hill.
It is located about 8 km northwest of Nakashibetsu Airport, about 12 km northwest of Nakashibetsu bus terminal, about 23 km west of Shibetsu town which is the entrance town to Notsuke Peninsula.
We can see the wide land at the observatory.
Because there is no obstruction to the view, the 360-degree horizontal line looks round.
But, the advertising slogan of the observatory is "330-degree view".
Because there is an 1,005-meter mountain about 8 km north of the observatory, the part is deducted from 360 degrees.
But it is a joke.
The observatory building opens from late April to October. (9:00 to 17:30. In October, closed at 16:30)
There are a cafe and a souvenir shop in the building.
How to get here
There is no public transportation.
You can go to there by using a rental car.
Hotels around Shibetsu and Nakshibetsu
Other Tourist Attractions in Eastern Hokkaido