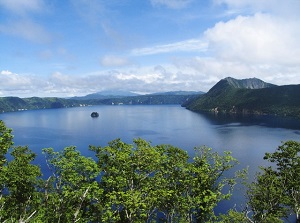 Lake Mashu from the 1st Observatory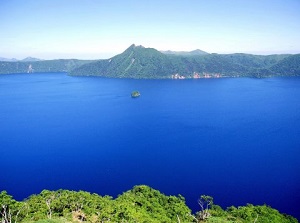 Lake Mashu from the 3rd Observatory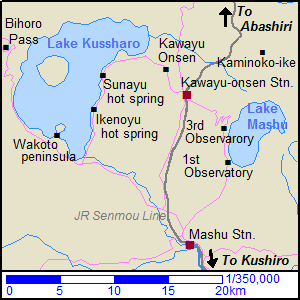 Map around Lake Mashu
Lake Mashu ("Mashû-ko" in Japanese) is a freshwater caldera lake located about 50 km south-southeast of Abashiri and about 70 km north of Kushiro.
It is about 6 km long and 3 km across.
The shape of the lake is distorted oval.
And it is 212 meters deep.
A very small island is in the center of the lake.
Lake Mashu was formed by eruption of a volcano about 7,000 years ago.
The volcano is Mount Mashu (857 m) and is on the east side of the lake.
The Ainu people had called the volcano "Kamui-nupuri" meaning "mountain of God".
Most parts of lakeside are surrounded by cliffs which are a few hundred meters high.
Therefore, we cannot get close to the lakefront.
This lake has no river, and the water is cold.
And impurities in the water are very low.
As a result, the clarity of the water is the best in Japan.
So, we can enjoy the beautiful and mystic blue color of the water.
In 1931 the clarity was the top of the world.
At that time, the second was Lake Baikal in Russia.
But after trying to stock this lake with trouts, the clarity has gotten worse gradually.
A scenic road runs on the cliff of the west coast, and two main observatories are set up on the road.
Near the southern edge of the lake, there is The 1st Observatory.
It is popular, and there is a rest house.
Near the western edge of the lake, there is The 3rd Observatory.
It is located about 4 km north of the 1st Observatory, and there is only a parking.
(There used to be "The 2nd Observatory" between the 1st and the 3rd.
But because there were some dangerous places, it was closed.)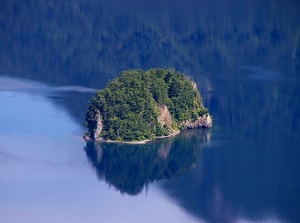 An island in Lake Mashu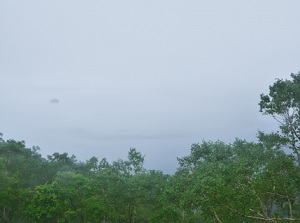 Lake Mashu in the fog
Lake Mashu is also known as a foggy lake.
Particularly in June or July, fog often rises, then the lake is obscured by fog.
If you encounter the fog there, you are unlucky.
How to get here
By local train of JR Senmou Line, get off at Mashu station.
About 1 hour and 20 minutes from Kushiro, about 2 hours from Abashiri.
Then, by route bus, about 25 minutes from Mashu station to the 1st observatory.
The route bus is operated only a few times a day.
And the destination is the 1st observatory and the distance from Mashu station is about 13 km.
When you want to visit the 3rd observatory, you need to use a rental car.
This spot is in Teshikaga town.
The town is operated a route bus for tourist using Teshikaga Eco Passport.
It is operated around Lake Mashu, Kawayu Onsen and Lake Kussharo within a certain period of time in summer and late winter.
Please check the official website.
There is also a way to use regular sightseeing bus from Kushiro.
The sightseeing bus and above route bus are operated by Akan Bus company.
Hotels around Teshikaga town
Other Tourist Attractions in Eastern Hokkaido