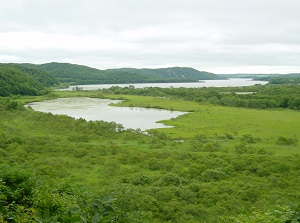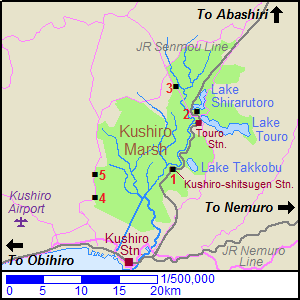 Map around Kushiro Marsh
1) Hosooka Obs. 2) Sarubo & Sarurun Obs.
3) Kottaro Obs. 4) Kushiro City Obs.
5) On'nenai Visitor Center
Kushiro Marsh ("Kushiro shitsugen" in Japanese) is a broad marsh expanding to the north of Kushiro city.
It is the largest marsh in Japan, and has an area of about 200 square kilometers.
The area stretches 25 km from east to west and 36 km from north to south.
Kushiro River snakes through the marsh.
On the east side of the river, there are main three lakes: Takkobu, Touro and Shirarutoro.
Whole of this marsh has been designated national park, and was inscribed as a registered wetlands under the Ramsar Convention in 1980.
After ice age, this area sank in the sea about 6,000 years ago.
Then it formed a bay.
After the sea level decreased, this area became a swampland.
And it changed a current marsh about 3,000 years ago.
In the marsh, there are about 600 kinds of plants and flowers, 26 kinds of mammals, 4 kinds of amphibians, 5 kinds of reptiles, about 170 kinds of birds, 35 kinds of fish and over 1,150 different kinds of insects.
Many rare species of plants and animals inhabit the marsh and some of these are endangered species.
Especially tanchozuru (red-crowned crane) is well-known to Japanese tourists.
Visitors must view the marsh only at several observatries.
Most observatories have also a few courses of walking trail.
The observatories along Kushiro River
JR Senmou Line runs from north to south along Kushiro River.
It runs along the east edge of the marsh.
This is the only public transportation for these observatories.
Only around Lake Touro, we can visit by car.
Hosooka Observatory (
細岡展望台

)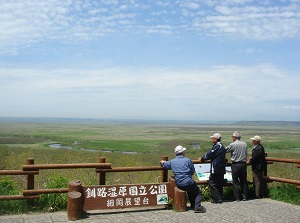 Hosooka Observatory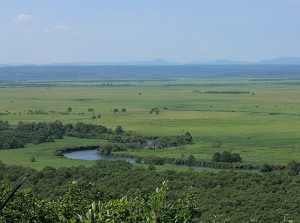 View from Hosooka Observatory
It is located 13 km north-northeast of Kushiro city, and this is the main observatory on the east side of the marsh.
It is just near Kushiro-shitsugen station of JR Senmou Line.
You can view the marsh, Kushiro River, and Mount O-Akan and Me-Akan around Lake Akan in the distance.
The view of sunset is also good.
Sarubo and Sarurun Observatories (
サルボ展望台, サルルン展望台

)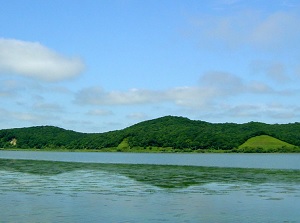 Lake Touro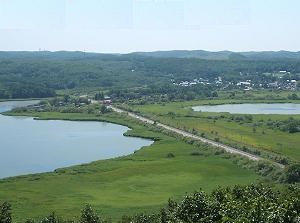 View from Sarubo Observatory
These two observatories are located 22 km north-northeast of Kushiro city.
They are located about 1.5 km north of Touro station on Senmou Line, and is just northwest of Lake Touro.
Main observatory is Sarubo Observatory, and Sarurun Observatory is about 400 meters west of Sarubo.
You can view the marsh and some lakes.
The wooden walking trails are set up around the observatories.
Kottaro Observatory (
コッタロ展望台

)

It is located 6 km northwest of JR Touro Station.
To visit here, you must use a car or walk.

Around here, rare species of plants and insects make their habitat.

The observatories on the west side of marsh
These observatories are located northwest of Kushiro city.
You cannot see the Kushiro River, but each observatory provides some walking trails.
Kushiro City Observatory (
釧路市湿原展望台

)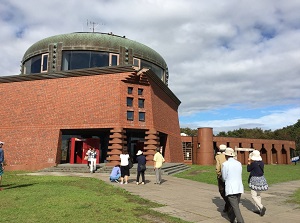 Kushiro City Observatory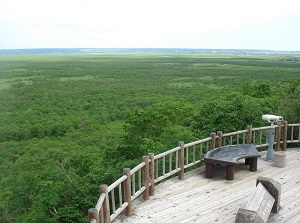 View from the satellite observatory
It is located 10 km northwest of Kushiro city, and this is the main observatory on the west side.
The main observatory is near a national road, and it is in a building with museum.
From the observatory, a circling walking trail about 2.5 km long is set up.
There is a satellite observatory on the way, and you can see the marsh in sight.
On'nenai Visitor Center (
温根内ビジターセンター

)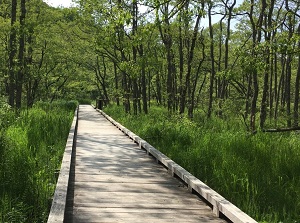 Trees around On'nenai boardwalk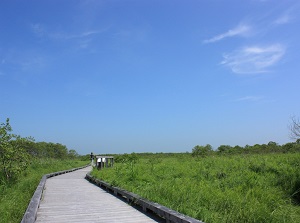 On'nenai boardwalk in the marsh
It is located 4 km north of Kushiro city observatory.
There is a visitor center, and we can get the information about Kushiro Marsh here.
On'nenai boardwalk (温根内木道) is set up in the marsh.
It starts at the information center and the total length of the boardwalk is about 3 km.
By route bus, it takes about 5 minutes from Kushiro city observatory.
How to get here
By local train of JR Senmou line, from Kushiro station about 20 minutes to Kushiro-shitsugen station (near Hosooka Observatory), about 35 minutes to Touro station (near Sarubo, Sarurun and Kottaro Observatories).
By route bus, from Kushiro station, about 40 minutes to Kushuro city observatory, about 45 minutes to On'nenai Visitor Center.
Hotels in Kushiro
Other Tourist Attractions in Eastern Hokkaido