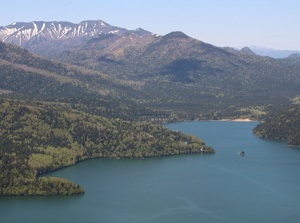 Lake Shikaribetsu & Bentenjima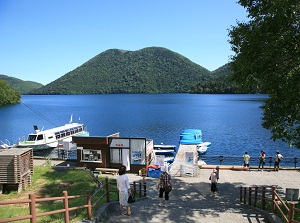 Lake Shikaribetsu in summer
Photo by Tokachi Tourism Federation
Lake Shikaribetsu ("Shikaribetsu-ko" in Japanese) is a freshwater lake located about 40 km north of Obihiro city.
It is located at 810 meters above sea level.
This lake is the highest in Hokkaido and the depth is 108 meters.
It is about 4 km long from north to south and 1 to 2 km wide.
There is a small island "Bentanjima" a little bit to the north of the lake.
It is surrounded by the mountains as much as 1,000 meters high, and no private home is around this lake.
But there is a hot spring resort with two hotels at the southwestern lakeside.
We can see only the buildings of these hotels.
A pleasure boat is operated from the middle of May to October.
It takes about 40 minutes to cruise the lake.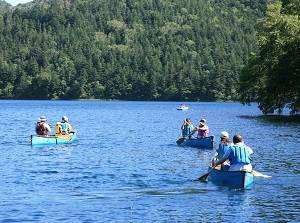 Canoe in Lake Shikaribetsu
Photo by Tokachi Tourism Federation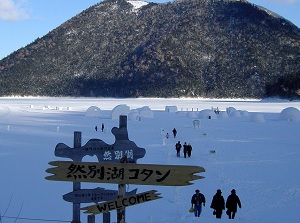 Shikaribetsu-ko Kotan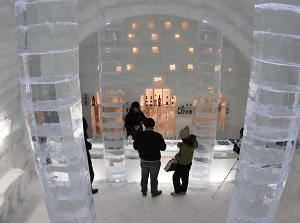 Bar of ice in Shikaribetsu-ko Kotan
Photo by Tokachi Tourism Federation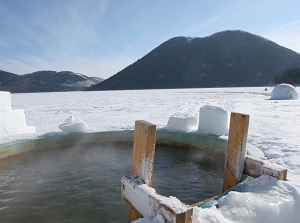 Hot bath in Shikaribetsu-ko Kotan
Photo by Tokachi Tourism Federation
Visitors enjoy outdoor activities such as canoe, kayak in summer and the beautiful colored leaves in autumn.
For the visitors, there is Shikaribetsu-ko Nature Center near the hotels.
From December to next May, this lake freezes over.
So, from January to March, Shikaribetsu-ko Kotan is opened on the flozen lake.
It is a village of igloos (houses made of ice blocks).
In the village, there are a outdoor hot spring bath and a bar.
How to get here
By route bus, it takes about 1 hour and 40 minutes from Obihiro station.
Hotels around Lake Shikaribetsu
Other Tourist Attractions in Eastern Hokkaido