Kushiro is a city positioned in the east part of Hokkaido.
It faces the Pacific Ocean and the population is about 170 thousand.
It is an industrial city, then there are some industrial complexes around the city.
In summer, it is relatively cool in this area and fog rises in many days.
In winter, it is very cold, but it is relatively fine and snowfall is light.
Broad Kushiro Marsh spreads to the north of the city, and we can see the precious natural.
In the area, red-crowned cranes make their habitat, and they have been protected as a special Japanese natural treasure.
When you travel around eastern Hokkaido, Kushiro is a good base city.
Nusamai Bridge (
幣舞橋

)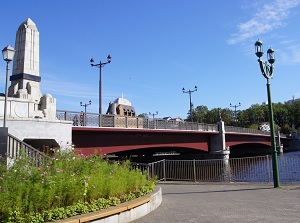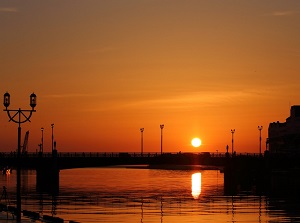 Nusamai Bridge is a bridge over the Kushiro River.
It is in the central Kushiro city, and located 1 km south of JR Kushiro station.
There is the Kushiro port about 1 km west of it.
So the beautiful view of the sunset at this bridge is famous.
On the parapets, there are four statues of women made by four Japanese sculptors.
Kushiro Fisherman's Wharf MOO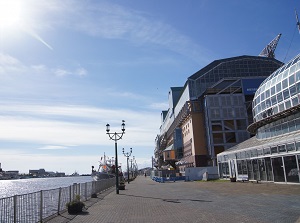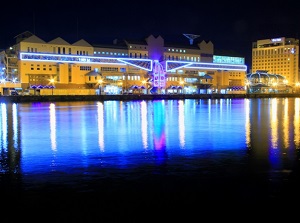 Kushiro Fisherman's Wharf MOO is a main commercial complex for tourists in Kushiro city.
It is located just west of Nusamai Bridge.
There are many restaurants, cafes and markets in it.
Additionally, "Minato-no-yatai" (It means "Stalls on a port") section has several food stalls.
Washo Market (
和商市場

)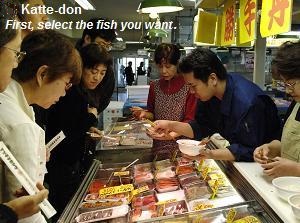 Katte-don. Select the fish you want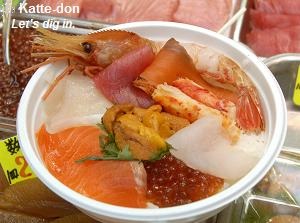 Katte-don
©Hokkaido Tourism Organization / ©JNTO
Washo Market ("Washô ichiba" in Japanese) is a market located only 150 meters southwest of JR Kushiro station.
There are many small shops of fresh foods.
Especially Katte-don in this market is a unique dish, so it is very popualar for tourists.
You buy a bowl. Boiled rice is in the bowl.
Then you top some pieces of your favorite raw fish on the rice as much as you like, with traveling in the market and buying them.
After putting soy sauce (shoyu) on the dish at the last shop, you eat it.
(Of course, you shouldn't pick up the fish one after another. The price becomes too expensive.)
Tanchozuru Natural Park (
丹頂鶴自然公園

)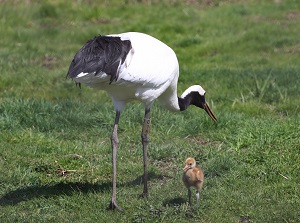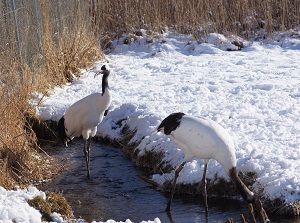 Tanchozuru means "red-crowned crane", and its habitat is only around Kushiro in Japan.
Number of the crane is small, so it is protected.
Tanchozuru Natural Park is one of observation spots of red-crowned crane, and is located about 15 km west northwest of Kushiro city. And it is just 2 km north of Kushiro Airport.
You can see some cranes through a whole year.
Route bus between JR Kushiro station and Lake Akan stops at this park.
It takes about 50 minutes from Kushiro staion, about 3 minutes from Kushiro Airport, about 55 minutes from Lake Akan.
(In Japanese, the name of the park is formally "Tanchôzuru Shizen-kôen", but it is often called Tsuru kôen shortly.)
How to get here
By JR limited express, 4.5 hours from Sapporo, 1 hours 40 minutes from Asahikawa.
By JR local train, 3 hours 10 to 30 minutes from Abashiri.
By airplane, arrive at Kushiro Airport (from Shin-Chitose (Sapporo), Haneda (Tokyo), etc.)
Then, by route bus, about 45 minutes to the center of Kushiro city.
Hotels in Kushiro
Other Tourist Attractions in Eastern Hokkaido