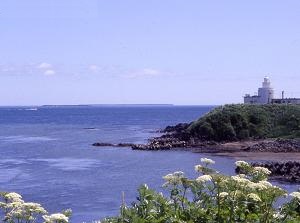 Cape Nosappu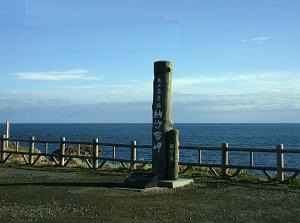 Observatory of Cape Nosappu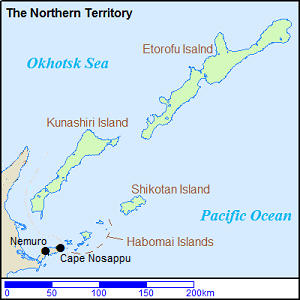 Cape Nosappu is on the easternmost tip of Nemuro Peninsula.
It is located 20 km east of the central Nemuro city.
It is the easternmost place of Japan where the common tourists can visit.
We can see Kaigara Island in the Habomai islands from there.
The islands are ones of the Northern Territory and are only about 3.7 km off this cape.
The Northern Territories include the islands of Etorofu, Kunashiri, Shikotan and Habomai islands as the map indicates.
They are located at the southwestern end of Kurile Islands.
In Japanese, the Northern Territories are called "Hoppou-Ryoudo" (北方領土).
And, Japanese people usually call these islands "Northern Four Islands" because of regarding Habomai Islands as an island.
In 1855, Treaty of Shimoda between Japan and Russia determined the attribution of these islands to Japan.
But Russia (Soviet Union at that time), one of the Allies, occupied them at the end of the Pacific War (World War II) by unconditional surrender of Japan in 1945.
After the war, Japan has been taken a stance that these islands are the traditional Japanese territory and has been reclaiming them.
But Russia hasn't complied with the reclaim.
On the contrary, Russia is developing these islands as own territory.
Japanese people who had run away from the islands to mainland are continuing to age but they can't return to the islands.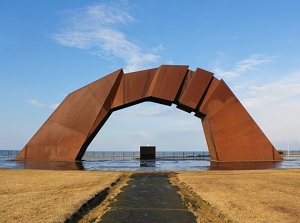 Shima-no-kakehashi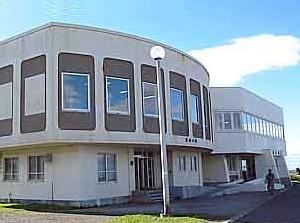 Boukyou-no-ie
On the cape, there is "Cape Nosappu Lighthouse" which is the oldest one in Hokkaido.
Around the cape, there are a few sightseeing spots.
A monument like an arch is the symbol of this cape named Shima-no-kakehashi.
It means "Bridge to the four islands".
It was built in 1980, hoping to return the Northern Territory to Japan.
There is a museum Hoppou-kan which introduces the outline, history and natures of the Northern Territory.
Some telescopes are set, and you can watch the islands of the Northern Territory closely through them.
Next to Hoppu-kan, there is a museum Boukyou-no-ie which means "the house of nostalgia to the hometown (the Northern Territory)".
Various materials and documents about the Japanese islanders in the Northern Territory before the World War II are displayed.
How to get here
By route bus, about 35 minutes from JR Nemuro station.
Hotels in Nemuro
Other Tourist Attractions in Eastern Hokkaido