Akkeshi & Kiritappu [
厚岸、霧多布

]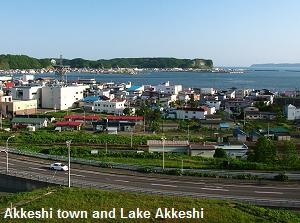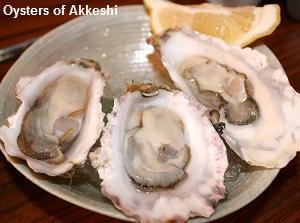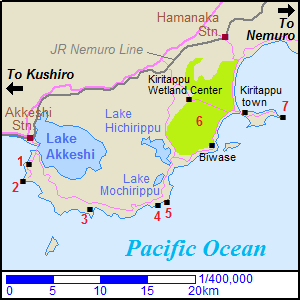 Map around Akkeshi & Kiritappu
1) Kokutaiji, 2) Cape Aikappu, 3) Ayamegahara,
4) Cape Namida, 5) Tateiwa, 6) Kiritappu Wetland,
7) Cape Kiritappu
Between Kushiro city and Nemuro city, there are Akkeshi area and Kiritappu area.
The sightseeing spots are on the sea coast route off the main railroad and national road.
These are relatively quiet sightseeing areas, but you can see the coastal sceneries and broad wetland in these areas.
The west area is Akkeshi town.
It is located about 40 km east of Kushiro city.
The central area of the town is between Lake Akkeshi and Akkeshi Bay, and the lake and the bay are connected.
Therefore, Lake Akkeshi is a saltwater lake.
Akkeshi is one of famous oyster-producing areas in Japan.
Because of cold region, we can enjoy tasting the oyster in Akkeshi all year round.
Kiritappu area is located about 25 km east of Akkashi town.
(It is the southern part of Hamanaka town.)
The kanji characters of Kiritappu means "place of much fog", and the area has really many foggy days.
In this area, there is Kiritappu Wetland which is the prime scenic spot.
From Akkeshi to Kiritappu, there are some nice spots along the coastline.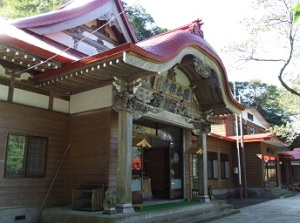 Kokutaiji temple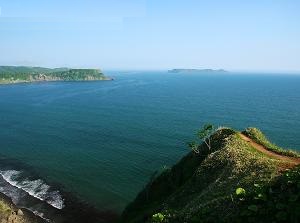 Cape Aikappu
Kokutaiji temple (
国泰寺

)

Kokutaiji is one of the oldest Buddhist temples in Hokkaido.
It is located about 3 km south of the center of Akkeshi town.

In late 18th century, Russian had Christianized Ainu people in the Kurile islands located in the northeast of Hokkaido.
Therefore, this temple was built by Edo feudal government in 1804.

The building of the temple had been rebuilt several times.
But a few buildings built in the 1830s and 1840s remain.

This temple is known for one of cherry blossom viewing spots in Hokkaido.
Cape Aikappu (
愛冠岬

)

Cape Aikappu is a small cape located 2 km south of Kokutaiji temple.

"Aikappu" means "a place where a shot arrow cannot reach" in Ainu language.
But the pioneers from the mainland of Japan gave the nice kanji characters of "love" and "crown" to the pronunciation of the word.

So, this cape has been popular for young couples who want to succseed in love.

An observatory is on the cliff at a tip of the cape.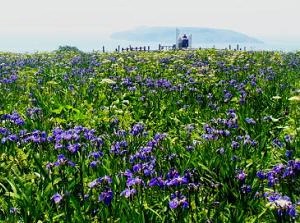 Ayamegahara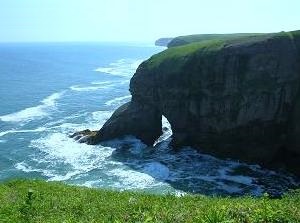 Cape Namida
Ayamegahara (
あやめヶ原

)

Ayamegahara is a field of wild flowers.
It has an area of about 100 hectares, and is located on a cliff about 10 km southeast of Akkeshi town.

"Ayamegahara" means "field of iris", so literally countless wild iris flowers cover this field in June and July.

We can enjoy the viewing of the wild flowers on the walking trail.
Cape Namida (
涙岬

)

Cape Namida is a cape of rocky cliff located 7 km east of Ayamegahara.

"Namida" means "tears", then the name is based on a story.

A long time ago, a ship with a young fisherman was going to go from Akkeshi to Kiritappu.
But the ship was wrecked in a storm near this cape, so he disappeared over the sea.
His lover knew that, then she continued calling his name in tears on this cape.
Since that, it is said that the rock of the cape looks like her sad face...
Tateiwa rock (
立岩

)

Tateiwa is a big rock on the sea off a coast, and is located 2 km east of Cape Namida.

It is said that the dead young fisherman of above story of Cape Namida became the rock.
He is going to go to meet his lover toward Cape Namida, for eternity...
Kiritappu Wetland (
霧多布湿原

)

Kiritappu Wetland is a wetland located 10 km northwest of Tateiwa.
And there is Hamanaka station of JR Nemuro Line to about 7 km north of here.

It is 3,168 hectares in area, and is the Japan's third largest marshes after Kushiro Marsh and Sarobetsu moor.
It was inscribed as a registered wetlands under the Ramsar Convention in 1993.

This wetland has more variety and number of wild flowers than Kushiro Marsh, then it is called "wetland of flowers".

We can see the field of flowers from June to September.
Generally we can enjoy the view at Biwase Observatory on the hill of south side or Kiritappu Wetland Center on the hill of northwest side.
Cape Kiritappu (
霧多布岬

)

Cape Kiritapput is a cape located about 7 km east of Kiritappu Wetland, and is on the tip of a small peninsula.

We can see the boundless Pacific Ocean before us.

On the west base of peninsula, there is small Kiritappu town.
A few hotels with hot spring are in the town.
How to get here
By route bus
From Kushiro station, route buses run to Kiritappu-onsen (Kiritappu town) through this route.
About 1 hour and 15 minutes to Akkeshi station, 1 hour and 30 minutes to Kokutaiji, 1 hour 45 minutes to Ayamegahara, 2 hours and 10 minutes to Biwase observatory, and 2 hours 40 minutes to Kiritappu-onsen.
From Hamanaka station, 25 minutes to Kiritappu-onsen.
By train and route bus
By local train on JR Nemuro Line from Kushiro, about 50 minutes to Akkeshi staton, about 1 hour 15-25 minutes to Hamanaka station.
From each station, get on the above route bus.
Hotels around Akkeshi
Other Tourist Attractions in Eastern Hokkaido