Tourist Attractions in Obihiro
Obihiro is a city positioned in the southeast part of Hokkaido.
This region including Obihiro city is called "Tokachi", and large-scale farming is the main industry.
It is on a flat basin in the midstream of Tokachi River.
This region is very cold in winter and very hot in summer.
But, it doesn't have much snow in winter.
It is said that such climate creates beautiful color of flowers.
Therefore, there are some sightseeing gardens around Obihiro city.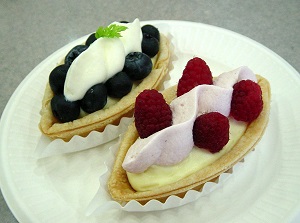 Sweets in Obihiro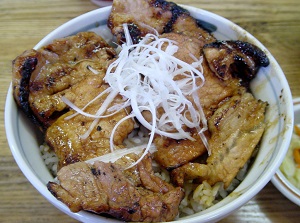 Butadon in Obihiro
Obihiro is known for variety of sweets shops.
High quality wheat, dairy products, sugar beet, red beans, etc. are produced around this city, and the air and the water in this area is clean.
So, many sweets shops are creating tasty cakes, breads, ice creams, etc.
At the information center in JR Obihiro station, you can get the map of sweets shops in Obihiro city.
It is 500 yen, but has the tickets that you can try the recommended sweets at four shops of over 20 shops in the city.
In addition, butadon is a popular fast food of Obihiro.
It is the rice bowl topped with cooked pork, and the pork is also produced in this area.
Above tourist attractions are in the suburbs of Obihiro.
There is no public transportation to some places of them.
The following website introduces the tours by taxi and bus companies.
It is an idea to use them.
How to get here
By JR limited express, 2.5 hours from Sapporo, 1.5 hours from Kushiro.
By airplane, arrive at Tokachi-Obihiro Airport from Haneda (Tokyo)
Then, by route bus, about 40 minutes to the center of Obihiro city.
(Tokachi-Obihiro Airport is located about 20 km south of the central part of Obihiro city.)
Hotels in Obihiro
Other Tourist Attractions in Eastern Hokkaido