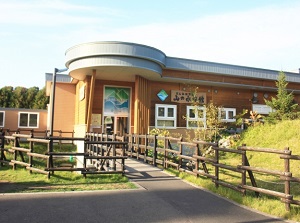 YAMA NO Aquarium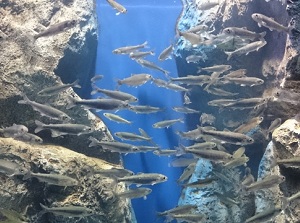 A water tank in YAMA NO Aquarium
YAMA NO Aquarium is an aquarium of freshwater fish.
In Japanese, it is called "Yama no Suizokukan" meaning "aquarium in the mountain".
Another name is "Kita no Daichi no Suizokukan" meaning "aquarium in the northern land".
It is in On-neyu Onsen (温根湯温泉) hot spring resort located about 30 km west of Kitami city.
It is at the east foot of Daisetsuzan Volcanic Group and in Rubeshibe town.
The aquarium contains 3,000 freshwater fish of about 50 different species.
This is a unique aquarium produced by Nakamura Hajime, only an aquarium producer in Japan.
First, there is a fish tank that the water surface freezes in winter.
It is the only tank in the world and you can observe the fish under the frozen river in winter.
And, there is a tank of waterfall basin. It is the only tank in Japan.
You can observe the fish just under waterfall.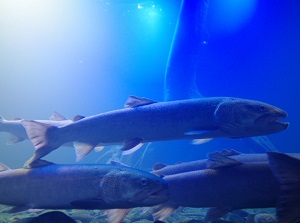 Japanese huchen (Itou)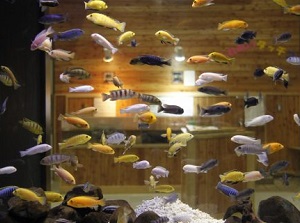 Tropical fish breeding in Onsen water
In addition, you can observe Japanese huchen. (It is call "itou" in Japanese.)
It is a member of the salmon family and is an endangered species.
The length is over 1 meter and the fish lives only in Hokkaido, Sakhalin and southern Kuril Islands.
There are some other unique water tanks in the aquarium.
Kita-kitsune Bokujo (
北きつね牧場

)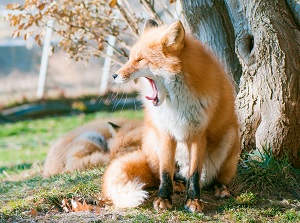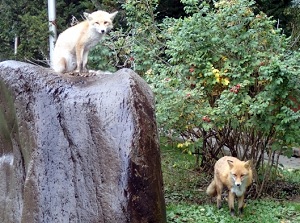 As additional spot of the aquarium, there is Kita-kitsune Bokujo.
It is located about 200 meters northwest of YAMA NO Aquarium.
Kita-kitsune is "Ezo red fox" in English and lives in Hokkaido and Sakhalin islands.
Wild kita-kitsune is sometimes seen in some villages or towns.
About 60 foxes are unrestrained in the farm.
The visitors can walk freely in the farm.
But it is not allowed to feed the foxes and to touch the foxes.
How to get here
By JR limited express, to Ribeshibe station, about 1 hour and 10 minutes from Abashiri, about 2 hours and 45 minutes from Asahikawa.
Then, by route bus, about 20 minutes from Rubeshibe station to On-neyu onsen.
Hotels around Kitami
Other Tourist Attractions in Eastern Hokkaido