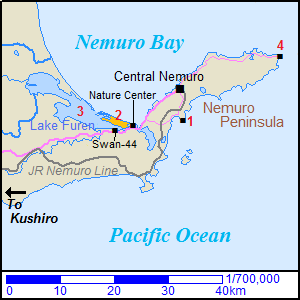 Map around Nemuro city
1) Nemuro-Kurumaishi, 2) Shunkunitai,
3) Lake Furen, 4) Cape Nosappu
Nemuro is the easternmost city in Japan.
The area of city is whole of Nemuro Peninsula extending long toward eastern.
The center of the city is located in the middle of the peninsula.
Main industries are fishery and dairy farming.
Hanasaki crab caught around Nemuro is famous.
Nemuro is the closest city to Northern Territories which has been retained control by Russia after the World War II.
Therefore, it is the central city of movement for return of Northern Territories maintaining friendly relations with Russian Far East.
There are some sightseeing spots of natural scenery around the city.
By the way, you should know that the sunrise and sunset at Nemuro are 40 to 50 mintutes earlier than Tokyo.
Nemuro-kurimaishi (
根室車石

)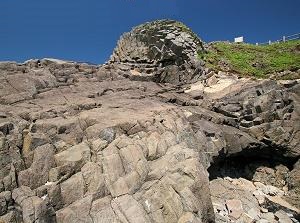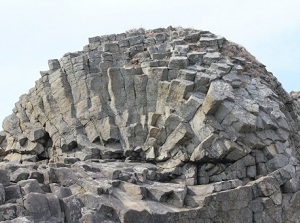 Nemuro-kurimaishi are several unusual-shaped rocks of radial joint on the cliff under the Hanasaki lighthouse.
(In English, the name is "Nemuro wheel stone".)
They surely look like wheels, and are valuable in the world.
The biggest one is 6 meters in diameter.
The spot is on a small cape at the south end of Hanasaki Port.
Hanasaki Port is located 6 km south of central Nemuro city.
By route bus, get off at "Kurumaishi-iriguchi" stop. (About 11 minutes from JR Nemuro station)
Then, walk 2 km to the spot.
Shunkunitai (
春国岱

)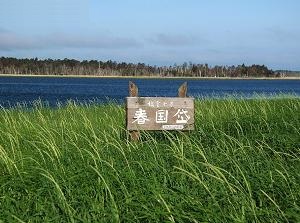 Shunkunitai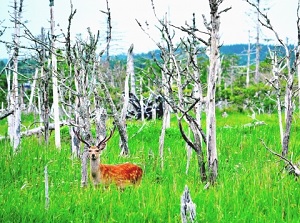 A deer in Shunkunitai
Shunkunitai is a sand bank which cuts off Lake Furen from Nemuro Bay.
It is about 8 km long and about 1.3 km wide.
On this sand bank, there are various natures such as primary forest, grassland, wetland, mudland, small lakes and brooks.
So you can see uncommon sight that mountain birds and sea birds are flying at the same time in Shunkunitai.
At the east end of the sand bank, there is "Nature Center".
You can get the information about Shunkunitai.
And there are some walking trails on Shunkunitai.
By route bus for Attoko, get off at "Toubai" stop. (About 19 minutes from JR Nemuro station)
Then, walk 150 meters to Nature Center.
Lake Furen (
風蓮湖

)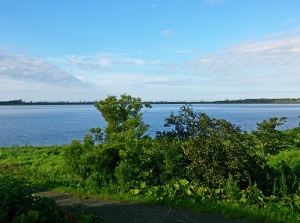 Lake Furen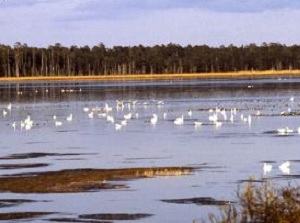 Swans in Lake Furen
Lake Furen ("Fûren-ko" in Japanese) is a saltwater lake cut off from Nemuro Bay by Shunkunitai.
It is about 20 km from east to west, and about 4 km in greatest width.
Most parts of the lakeside are marsh or mudland, so many waterfowls come here.
Especially it is known as the lake that the largest number of swans come here in Japan.
You can see the swans from October to December and from March to May.
Generally, you can have a view of the lake at a roadside station Swan-44-Nemuro located 3 km west of Nature Center of Shunkunitai.
It is by Route 44 and has the observatory, restaurant and souvenir shops.
By route bus for Attoko, get off at "Hakuchodai-Center" stop. (About 24 minutes from JR Nemuro station)
How to get here
By airplane
By airplane, from each airport to Nemuro-Nakashibetsu Airport.
(It takes 1 hour and 40 minutes from Haneda Airport (Tokyo) and 50 minutes from Shin-Chitose Airport (near Sapporo).)
Then by route bus, from the airport to Nemuro Station, it takes 1 hour and 35 minutes.
By train
By local train on JR Nemuro Line, it takes about 2 hours and 10 to 20 minutes from Kushiro.
Hotels in Nemuro
Other Tourist Attractions in Eastern Hokkaido