Kawayu Onsen hot spring resort [
川湯温泉

]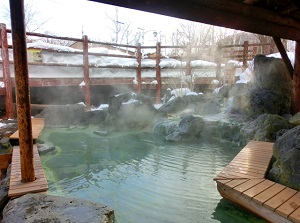 Footbath in Kawayu Onsen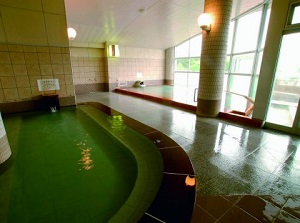 Bathroom of a hotel in Kawayu Onsen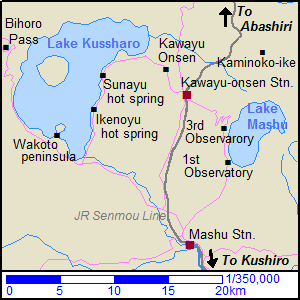 Map around Kawayu Onsen
Kawayu Onsen is a hot spring resort and is located about 3 km east of Lake Kussharo.
The closest station is Kawayu Onsen station and is just between Lake Kussharo and Lake Mashu.
Kawayu Onsen hot spring resort is located about 3 km north-northwest of the station.
Very much hot spring is gushing and the river of hot water flows through the onsen town, and the steams are drifting in the town.
The highly acidic water contains sulfur, so you may feel the odor of sulfur in the town.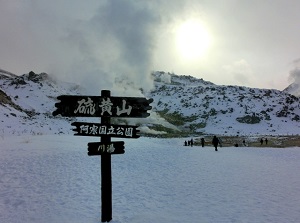 Mount Iou in winter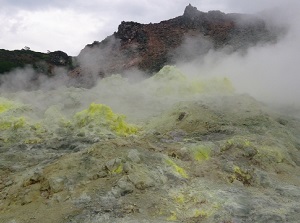 Mount Iou
There is an active volcano "Atosa-nupuri" (508 meters high) at about 3 km south of the onsen town.
It has yielded sulfur, so it is called Mount Iou (硫黄山) meaning "Mountain of sulfur" in Japanese.
The source of the hot spring is this volcano.
There are about 20 hotels and ryokans in the town, and each use the rich hot spring water for the bath.
How to get here
By local train of JR Senmou Line, get off at Kawayu-onsen station.
About 1 hour and 40 minutes from Kushiro, about 1 hour and 40 minutes from Abashiri.
Then, by route bus, about 10 minutes from Kawayu-onsen station to onsen town.
This spot is in Teshikaga town.
The town is operated a route bus for tourist using Teshikaga Eco Passport.
It is operated around Lake Mashu, Kawayu Onsen and Lake Kussharo within a certain period of time in summer and late winter.
Please check the official website.
Hotels in Kawayu Onsen
Other Tourist Attractions in Eastern Hokkaido