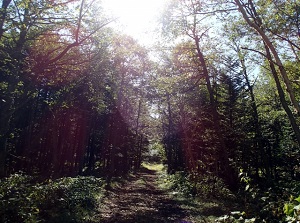 A path to Kaminoko Pond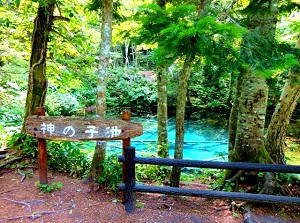 Near Kaminoko Pond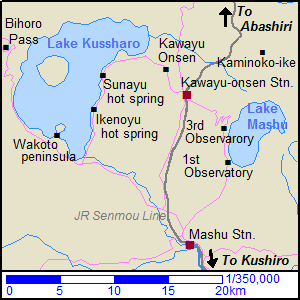 Map around Kaminoko Pond
Kaminoko Pond ("Kaminoko-ike" in Japanese) is a small pond in the forest located about 5 km north of Lake Mashu.
This pond became popular recently.
It is about 220 meters in circumference and the depth is 5 meters.
The water is very clear, and white volcane ashes are at the bottom of the pond.
So the color of the water becomes mysterious emerald blue in the sun.
Some fallen trees are in the pond, but they give an accent to the beautiful scene.
And Dolly Varden trouts are swimming around the trees.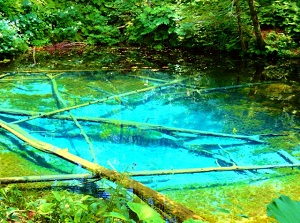 Water of Kaminoko Pond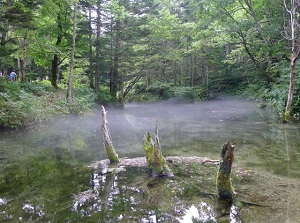 A river around Kaminoko Pond
The water of the pond comes from infiltrated water under the rim of Lake Mashu.
Lake Mashu has been called as "Lake of God" by Ainu people.
So, this pond was named as "Pond of a child of God".
In Japanese, it is "Kaminoko-ike".
How to get here
There is no public transportation.
You can go to there by using a rental car.
And the main road to this pond runs on the east side of Lake Mashu.
If you want to go on foot, the nearest station is Midori station of JR Senmou Line.
But there are only two round services during daytime for walking to the pond.
About 1 hour and 20 minutes from Abashiri, about 2 hours from Kushiro, about 35 minutes from Mashu station.
From Midori station, the distance to the pond is about 11 km. (It takes 2.5 to 3 hours.)
Along the road, there is no house and shop.
Other Tourist Attractions in Eastern Hokkaido