Lake Akan ("Akan-ko" in Japanese) is a freshwater caldera lake located about 30 km west-southwest of Lake Mashu and north-northwest of Kushiro city.
The area around Lake Akan has been designated Akan National Park, and has been inscribed as a registered wetlands under the Ramsar Convention in 2005.
It is one of most popular sightseeing area in eastern Hokkaido.
It was originally a big caldera lake which was formed by the eruption of active Mount Me-Akan volcano (1499 m) located southwest of current Lake Akan.
Ten thousand years ago, Mount O-Akan volcano (1370 m) located east of the current lake erupted, then the old lake was divided.
So, around Mt. O-Akan, there are some lakes such as Lake Akan, Lake Panketou, Lake Penketou and a few small lakes.
Lake Akan is famous for Marimo.
Marimo is a spherical moss growing in freshwater lake, and especially one in Lake Akan forms a nearly perfect sphere.
In the world, there are only a few lakes that marimo is growing.
And recently the number has been decreasing in Lake Akan.
It is a very precious species, so it has been designated a special natural treasure in Japan.
On the southern coast of the lake, there is the Akan-ko hot spring resort (阿寒湖温泉).
There are some hotels and ryokans in this area, and pleasure boats leave from here.
The pleasure boat cruises the interesting points of the lake.
Takiguchi is the southeast corner of the lake and has a scenery like Japanese garden.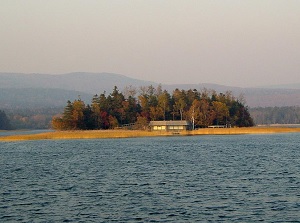 Chuurui Island in Lake Akan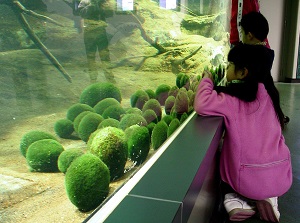 Real marimo in Chuurui Island
There is Chuurui Island at the north part of the lake.
On the island, there is Marimo Exhibition and Observation center.
You can see real "marimo" in the center.
It takes about 85 minutes to cruise around the lake.
Because the lake freezes in winter, it is operated from late April to the end of November.
At the western end of the hot spring resort, there is a Ainu village called Ainu-kotan (アイヌコタン).
It is the biggest Ainu village in Hokkaido, and about 200 Ainu people live.
There are many shops selling folk crafts of Ainu.
In a theater of the village, we can see the dance of Ainu, and we can learn the living and culture of Ainu at a small museum.
And at the lakeside northeast of hot spring resort, there is a spot called Bokke (ボッケ).
Boiled water and volcanic gas are emitting from the mud of the lake.
Lake Onneto (
オンネトー

)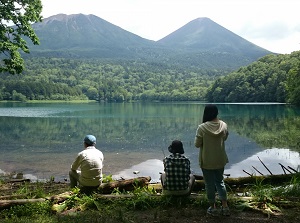 Mt. O-Akan & Me-Akan at Onneto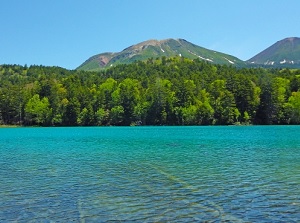 Beautiful water color of Onneto
Lake Onneto is a small lake located about 12 km southwest of Lake Akan.
(In Japanese, the last "o" is a long vowel. So it is pronuonced as "On-netô".)
It is one of dammed lakes of the volcanoes, and is at the west foot of Mount Me-Akan.
A characteristic of this lake is to change the color of the water with the condition of time, season and weather.
So it is called "five colored lake".
We can see both Mt. O-Akan and Mt.Me-Akan.
Because this lake has acid water, no fish lives in this lake except for salamander and crayfish.
The walking trails are set up around the lake.
At the southeast part of the lake, there is a waterfall that warm water falls.
How to get here
By route bus, about 2 hours from Kushiro station.
Or, from the middle of July to early October, an express bus is operated between JR Mashu station (the closest station of Lake Mashu) and Lake Akan.
It has two round-trip services a day, and it takes about 1 hour and 10 to 20 minutes.
To Onneto, route bus is operated from Akan-ko hot spring resort only in summer.
Hotels around Lake Akan
Other Tourist Attractions in Eastern Hokkaido