Tourist Attractions in Abashiri
Abashiri is a city positioned in the northeast part of Hokkaido, and faces the Okhotsk Sea.
It is a small city with a population of about 35 thousand.
The central area of the city extends along the foot of the hill including Mount Tento (207 meters in height).
JR Abashiri station is located at the west end of the city area.
There are some lakes linking to Okhotsk Sea around the city, and the area is full of nature.
In addition, there is the former Abashiri Prison.
It was the harshest prison in Japan in the early 20th century.
But, because a Japanese movie set in the prison was a big hit in the 1960s, that made Abashiri city famous.
For the tourists, the route bus connecting main tourist spots is operated.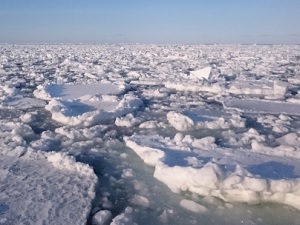 Ryuhyo on Okhotsk Sea
Abashiri is also known for ryuhyo (drift ice).
(Both vowels of "ryuhyo" are long sounds, so it is pronounced as "ryûhyô".)
Freshwater from Amur River in Russia freezes in Okhotsk Sea in winter.
And countless blocks of ice flow drift toward south.
At last they reach the northeast coast of Hokkaido and they cover the surface of the sea from late January to mid-February.
Because the west side of Okhotsk Sea is blocked by large Sakhalin Island, all blocks of drift ice move only to the northeast coast of Hokkaido.
Therefore, ryuhyo is seen only around this coast in Japan.
The coast around Abashiri is one of good viewing spots of ryuhyo.
How to get here
By JR limited express, 5.5 hours from Sapporo, 4 hours from Asahikawa.
By airplane, arrive at Memanbetsu Airport (from Shin-Chitose (Sapporo), Haneda (Tokyo), etc.)
Then, by route bus, about 30 minutes to the center of Abashiri city.
Hotels in Abashiri
Other Tourist Attractions in Eastern Hokkaido