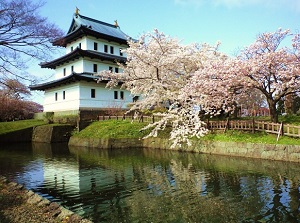 Matsumae Castle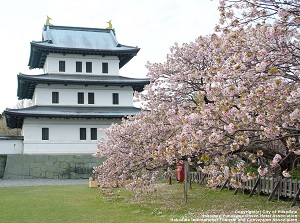 Sakura and Matsumae Castle
Photo by Hakodate city
Matsumae town is located farthest south of Hokkaido island and 65 km southwest of Hakodate.
It is the oldest and most historical town in Hokkaido.
Matsumae Family, a feudal lord, moved from Honshu Island to this area around the 15th century.
Then, as Matsumae Domain, they dominated this region for the first time in Hokkaido in the 16th century.
It assumed the domination of Hokkaido island, and prospered through trade with Ainu (native people in Hokkaido).
Therefore, we can see a few historical spots like the mainland in this town.
Most popular spot is Matsumae Castle.
It is in the center of the town, and was completed in 1606.
The original castle was burnt down in 1949, then current castle was rebuilt in 1961.
There is a museum inside the castle.
The castle is open from early April to early December.
The area around the castle is Matsumae Park.
There are 250 kinds of 10 thousand cherry trees.
It is one of best cherry blossom-viewing spots in Japan from the end of April to mid-May.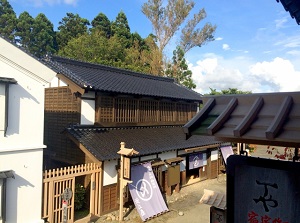 Merchant's house in Matsumae-han Yashiki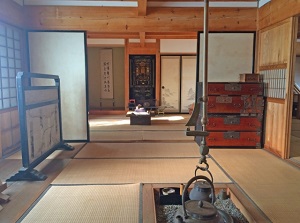 An old house in Matsumae-han Yashiki
There is Matsumae-han Yashiki (松前藩屋敷) about 0.5 km north of Matsumae Castle.
It means the residences of Matsumae Domain.
It is a theme park reproducing the houses in the 17th to 19th centuries.
We can see the 14 historical houses such as magistrate's office, samurai's residences, merchant's houses etc.
It is open from early April to the end of October.
In addition, there are some old Buddhist temples in the area between Matsumae Castle and Matsumae-han Yashiki.

A gate of Kozenji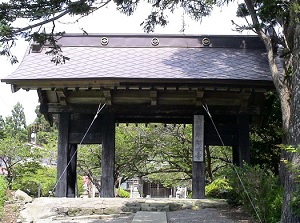 A gate of Aunji
Originally, they were built in the 15th to 16th century.
But, because a civil war occured around Hakodate area in 1868, many buildings in the temples were destroyed by fire.
So many of them were restored after that.
Main temples are the followings.
Kôzenji (

光善寺

) : Opened in 1533.
It was someteimes destroyed by fire, and the gates are built in 1760 and 1847.
Aunji (

阿吽寺

) : Opened around 1513 and built around 1617.
It was destroyed by fire in 1868 and was rebult.
Hôgenji (

法源寺

) : Opened in 1469 and was moved from the first place to here around 1619.
The gate is the oldest in Hokkaido.
Hôdôji (

法幢寺

) : Opened in 1470 and built in 1546.
How to get here
By express bus for Matsumae, about 3 hours from Hakodate station.
Get off at Matsujo stop, then about 5 minutes walk (about 300 m)
(The bus is operated only a few times a day.)
By local train of Donan-Isaribi Railway, about 1 hour from Hakodate to Kikonai station.
Then, by route bus, 1 hour and 30 minutes from Kikonai station to Matsujo stop.
(This train is operated only a few times in daytime.)
Hotels in Hakodate
Other Tourist Attractions in Southern Hokkaido