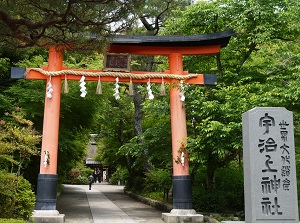 Entrance of Ujigami Shrine
Photo by Kyoto Free Photo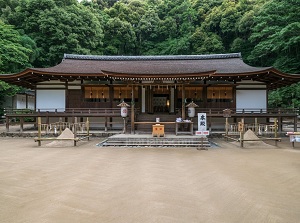 Haiden of Ujigami Shrine
Photo by inariage.com
Ujigami Shrine ("Ujigami-jinja" in Japanese) is a Shinto shrine, and is located about 1.2 km east-northeast of JR Uji station.
It is also called "Ujikami Shrine".
Byodo-in is at about 0.5 km southwest as the crow flies, but Uji River flows between these.
This shrine is one of 17 constructions of "Historic Monuments of Ancient Kyoto" designated as a World Heritage Site.
It is unknown when this shrine was founded.
In 2004, researchers from Nara's National Research Institute for Cultural Properties and Uji city have used dendrochronology to date the buidings of this shrine.
In the result, it became clear that the main shrine was built in around 1060.
It is the oldest existing shrine in Japan.
Byodo-in temple was founded in 1052, so it is thought that there is some sort of relationship between this shrine and Byodo-in.
It is said that this shrine had been a tutelary shrine of Byodo-in.
There is Uji Shrine next to this shrine.
It is another important Shrine, and is paired with Ujigami Shrine.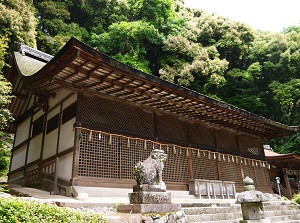 Honden of Ujigami Shrine
Photo by Kyoto Free Photo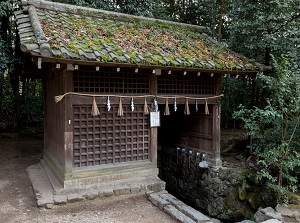 Kiriharasui in Ujigami Shrine
Photo by inariage.com
The precinct is not so broad.
There is Haiden (拝殿, Worship Hall) in the center of precinct and Honden (本殿, Main Hall) behind Haiden.
Both are designated as national treasures.
Near Haiden, there is a spring Kiriharasui (桐原水)
It has been gushing since at least the 16th century.
How to get here
By JR Nara Line, from Kyoto to Uji station, about 18 minutes by rapid train, about 24 minutes by local train.
About 20 minutes walk from the station.
Hotels around Ujigami Shrine
Other Tourist Attractions in Kyoto Prefecture