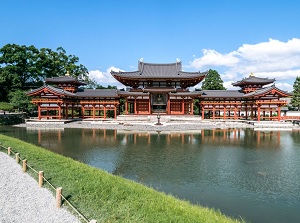 Hoodo in Byodo-in
Photo by inariage.com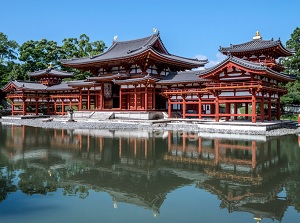 Hoodo in Byodo-in
Photo by inariage.com
Byodo-in is a Buddhist temple.
Both "o"s in the word are pronounced long, so it is read as "Byôdô-in".
It is located about 1 km east of JR Uji station and is near Uji River and is Manpukuji temple about 3 km north of this temple.
This temple is one of 17 constructions of "Historic Monuments of Ancient Kyoto" designated as a World Heritage Site.
Since the 9th century, Uji had been the resort area of the nobility in Kyoto.
So there were many villas in this area.
One of them was Ujiden villa of Fujiwara Michinaga (966-1028) who was a regent.
After he died, Fujiwara Yorimichi (992-1074), Michinaga's son, changed this villa to a Buddhist temple in 1052.
The central hall Hôôdô (鳳凰堂) was built in 1053, and some other buildings were also built in this site.
But most of them had been destroyed by civil war or by fire.
Hôôdô means "Phoenix hall".
As its name suggests, only Hôôdô remains miraculously until now.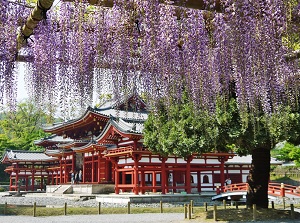 Wisteria and Hoodo
Photo by Kyoto Free Photo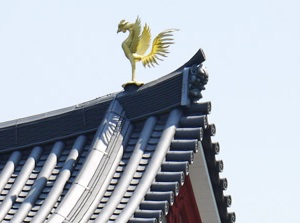 Statue of phoenix on Hoodo
Photo by Kyoto Free Photo
There is a main temple in the center of Hôôdô, and two small temples are connected with corridors on both sides of the main temple.
It looks like a phoenix spreading out the wings.
On the roof of the main temple, a pair of bronze statues of phoenix are set up.
A few ponds surround Hôôdô, and they form a Japanese garden.
Hôôdô is designated as a national treasure.
Many Buddha statues and wall paintings are inside of the temple, and all of them also are designated as national treasures.
We can see the inside of Hôôdô by joining the guided tour.
The image of this temple is on the Japanese 10 yen coin.
And the image of bronze statues of phoenix is on the 10,000 yen bill.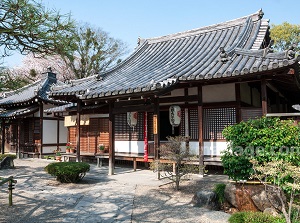 Saisho-in in Byodo-in
Photo by inariage.com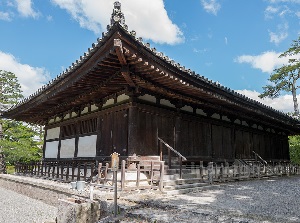 Kannon-do in Byodo-in
Photo by inariage.com
In addition, there are two temples, Saishô-in (最勝院) and Kannon-do (観音堂), to the north of Hôôdô.
And, by Hôôdô, there is the museum Byodo-in Hoshokan (平等院鳳翔館).
How to get here
By JR Nara Line, from Kyoto to Uji station, about 18 minutes by rapid train, about 24 minutes by local train.
About 10 minutes walk from the station.
Other Tourist Attractions in Kyoto Prefecture