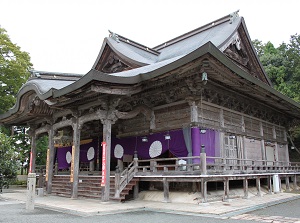 Hondou of Nariaiji
Photo by Kyoto by the Sea DMO.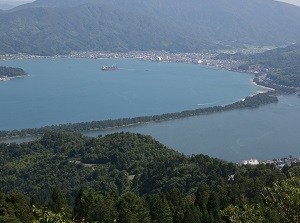 View of Amanohashidate from Nariaiji
Photo by Kyoto by the Sea DMO.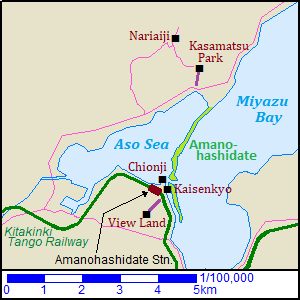 Nariaiji is a temple of Shingon Buddhism.
It is on the mountainside of Mount Nariai (569 m), and is located about 1.5 km nortwest of Kasamatsu Park near Amanohashidate.
It is said that this temple was founded in 704.
Since ancient times, it had been a training seminaries for mountaineering asceticism.
In the precinct, there are Sanmon gate, main temple, Five-story pagoda and a few other buildings.
Main temple (Hondou [本堂]) was rebuilt in 1774 and enshrines "Sho-Kannon" Buddha statue.
A high priest had been practicing Buddhism in this mountain.
In winter of one year, it had been snowing heavily every day, so foods had run out.
When he was starving to death, a wounded deer appeared.
There was a religious precept that says 'do not eat meat', but he had eaten the meat of the leg to keep himself alive.
One day in the following spring, villagers came to the place.
They found a Kannon Buddha statue from which the leg had been cut away and some small pieces of wood.
The priest heard that, and visited there again.
He attached the pieces to the statue, then the original Buddha statue revived.
He knew that Kannon Buddha rescured him by sacrificing itself.
He built a temple to enshrine the statue.
It was Nariaiji.
There is an observatory on a hill behind Hondou.
It is also a good place to view Amanohashidate.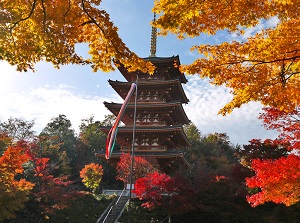 Five-story pagoda of Nariaiji
Photo by Kyoto Free Photo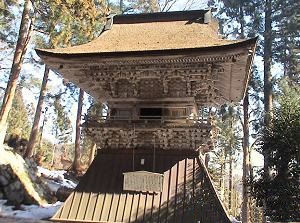 Bell tower of Nariaiji
Photo by Nihonrettou Okunijiman
Five-story pagoda (五重塔) is a new building and was built in 1998.
But it follows the style of architecture in Kamakura Period (around the 13th and 14th centuries).
And there are legendary spots in this temple.
Sokonashi-ike (Bottomless Pond) is near Five-story pagoda.
A large snake had been living in this pond.
It had swallowed the trainee priests in the temple one after the other.
At last, only one trainee priest remained, so the head priest of the temple devised a plan.
He made a doll of trainee priest and gunpowder was filled up in the doll.
The snake appeared again and swallowed the doll.
Then, the doll exploded in the stomack.
The snake suffering from a pain ran away, went down the mountain, entered into Aso Seas, then sank to the bottom of sea.
There is a bell tower close to Sokonashi-ike.
A bell created in 1609 is hung in the tower.
It is called Tsukazu-no-kane meaning "Never ringing bell".
To create this bell, this temple collected contribution.
But only a rich woman rejected it.
When the new bell was creating, many people came to see.
The rich woman also came with her baby.
When she looked into the melted bronze, she had fallen her baby into it by mistake.
After this tragic accident, the completed bell rang with grievous sound like wailing of baby.
Then the temple stopped to ring this bell for the dead baby.
How to get here
From Kasamatsu Park near Amanohashidate, mountain bus to Nariaiji is operated.
It takes 7 minutes, and is operated every 30 minutes.
Hotels around Amanohashidate
Other Tourist Attractions in Kyoto Prefecture