Miyama thatched village [
美山かやぶきの里

]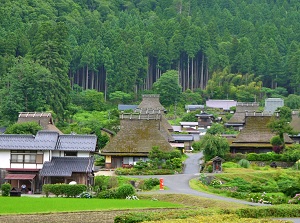 Miyama thatched village
Photo by Kyoto Free Photo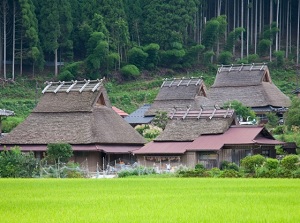 Thatched houses in Miyama village
Miyama thatched village is a small village that traditional houses with thatched roof gathered.
In Japanese, it is called "Miyama Kayabuki no Sato".
It is in Miyama area of Nantan city, and is located about 40 km north of Kyoto city.
Rather, it is closer to the Sea of Japan than Kyoto, and Obama city is located about 20 km north of this village.
In Japan, there had been many thatched houses in rural areas until around the middle of the 20th century.
Now, most of them have already disappeared.
Very popular villages with thatched houses are Shirakawa-go and Gokayama.
The houses in the villages have a unique shape because of much snow in winter.
"Miyama thatched village" is in Kita village in mountainous Miyama area.
There are about 50 houses in the village, and 39 houses of them have thatched roof.
They are the traditional common thatched houses.
The village is designated as a Preservation District for Groups of Historic Buildings.
Miyama Folklore Museum in the village is a museum using a former thatched house.
It introduces the the condition of the lifestyle and living tools in thatched house.
And some of the thatched houses are Minshuku (Japanese inn), restaurants and shops.
How to get here
From Kyoto, get on the train for Fukuchiyama or Goma of JR Sagano Line.
Get off at Hiyoshi station.
55 to 60 minutes from Kyoto.
Each train connects the route bus to Miyama thatched village.
About 50 minutes to Kita (Kayabuki no Sato) stop.
Hotels around Nantan city
Other Tourist Attractions in Kyoto Prefecture