Gokayama historic village [
五箇山

]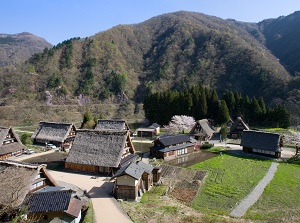 Suganuma district in Gokayama
Photo by Toyama Prefectural Tourism Association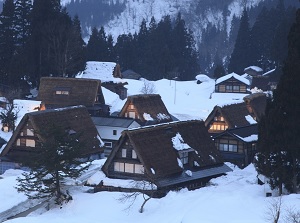 Ainokura district in Gokayama
Photo by Toyama Prefectural Tourism Association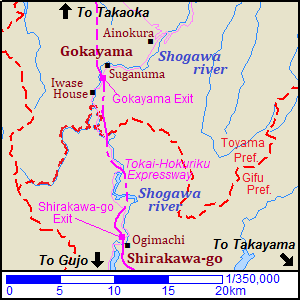 Gokayama is a mountain area in the southwest part of Toyama Prefecture.
It is located about 40 km south-southwest of Takaoka city.
Some small villages are dotted in the valley along Shogawa river.
In this area, Suganuma (菅沼) and Ainokura (相倉) districts have some traditional houses with steep rafter roof.
They has been registered as a World Heritage Site in 1995 with Shirakawa-go in Gifu Prefecture.
Shirakawa-go is located about 15 km south of Suganuma district.
The house of this characteristic type has been built around this area since the 17th century.
In Japanese, it is called "gassho-zukuri".
This area have heavy snowfall in winter, so a steep thatched roof has been set up on the house to remove snow easily.
And there is a wide attic under the roof.
It had been used as the space for a silkworm nursery since the 19th century.
The frame of gasshou-zukuri house is built with logs and ropes without nails.
This method is important for supporting the roof on which heavy snow lies in winter.
The house with thatched roof is unexpectedly warm in winter and cool in summer.
There is a fireplece ("irori" in Japanese) at the center of the living room, and a fire is made in irori in cold season.
Of course, it warms the room.
And the smokes rise up, then they fume the ceiling and the roof.
The smoked ceiling makes the house stronger.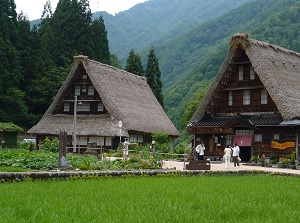 Houses in Suganuma district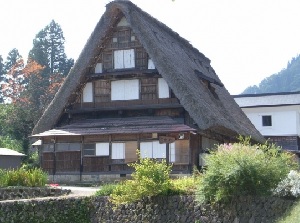 A house in Ainokura district
In Gokayama area, many of them are private houses.
So you must not enter the house without their permission.
Suganuma district near Gokayama exit on Tokai-Hokuriku Expressway has 9 houses of gassho-zukuri.
Ainokura district is located about 6 km notheast of Suganuma, and has 20 houses of gassho-zukuri.
Some of them manage minshukus (inns).
And two houses are opened as the museums.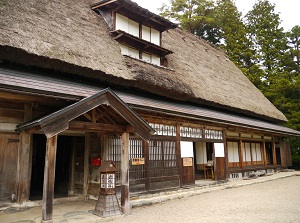 Iwase House in Gokayama
Photo by Toyama Prefectural Tourism Association

Irori in Iwase House in Gokayama
Photo by Toyama Prefectural Tourism Association
Iwase House located about 3 km south-southwest of Suganuma district is the largest house in Gokayama, and was built in the early 18th century.
We can tour the inside of the house.
How to get here
By route bus for Shirakawa-go (Ogimachi), from Takaoka station, about 1 hour and 20 minutes to Ainokura-guchi stop, about 1 hour and 35 minutes to Suganuma stop, about 1 hour and 40 minutes to Nishi-Akao stop (near Iwase House).
(The bus also stops at Shin-Takaoka station of Hokuriku Shinkansen.)
Hotels around Gokayama and Shirakawa-go
Other Tourist Attractions in Toyama Prefecture