Fukui Prefecture is a prefecture located at the southwest part of Hokuriku District.
The prefecture consists of two major parts.
The northeast part of the prefecture is called Echizen (越前) area.
Kuzuryu River from eastern mountains flows toward the northwest, and Hino River from southern mountains flows toward the north.
They form Fukui Plain in the center of Echizen area, and there are some cities along the rivers.
Fukui city is located at the center of the plain, and is the capital of the prefecture.
The eastern area and the western area are mountainous.
So most parts of the coast of Echizen area is steep.
Because most cities are in the inland area, much snow fall in winter.
The narrow southwest part of the prefecture is called Wakasa (若狭) area.
Literally, the area faces Wakasa Bay.
This area has the topography of a submerged shoreline, so there are several coves and small peninsulas along the bay.
It is also a mountanous area, and the prefectural border runs no more than 15 km from the coast.
And the mountains on the border devide Pacific Ocean side and the Sea of Japan side of Japan.
In winter, Wakasa area has relatively light snowfall and sometimes has rain.
Both "Echizen" and "Wakasa" are the old names of the areas.
In Fukui Prefecture, many historic spots are dotted.
And the coastline is full of variety, and there are several popular spots.
Fukui Prefecture has no airport and no Shinkansen.
But Komatsu Airport in Ishikawa Prefecture is comparatively closer to Echizen area including Fukui city.
And it is not far from Kanazawa, Kyoto, Osaka and Nagoya, so we can visit this prefecture in a relatively short time.
Tourist Attractions in Fukui Prefecture
Hotels in Fukui Prefecture
Transportation
Railway
To Fukui from Kanazawa : By limited express of JR Hokuriku Lines, about 50 minutes.
To Fukui from Osaka : By limited express of JR Kosei & Hokuriku Lines, about 2 hours.
To Fukui from Nagoya : By limited express of JR Tokaido & Hokuriku Lines, to Kanazawa, about 2 hours and 10 minutes.
Express bus
To Fukui from Nagoya : About 3 hours
To Fukui from Osaka : About 3.5 hours
To Fukui from Tokyo : About 8 to 10 hours
Main events in Fukui Prefecture
Omizu-okuri (March 2)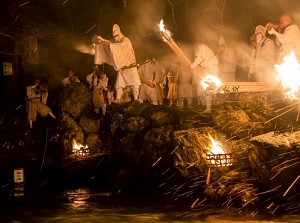 Photo by Fukui Prefectual Tourism Federation
In March 12, famous festival Omizu-tori is held at Nigatsudo in Todaiji temple in Nara.
Before the festival, this Omizu-okuri is held in Obama city.
Shinto rituals are held in Shimonegori Shrine in the morning.
Then the Buddhist ceremony named Shunie is held in Jinguji temple in the afternoon.
And Omizu-okuri ceremony is started at 18:00.
Many priests holding a torche parade to Unose which is a riverside place about 2 km away from Jinguji.
The chief priest pours sacred water into the river.
It is said that the water reaches a well in Todaiji in Nara after 10 days, and the water in the well are used in Omizu-tori.
(Todaiji is 90 km south of Obama city.)
Mikuni Festival (May 19 - 21)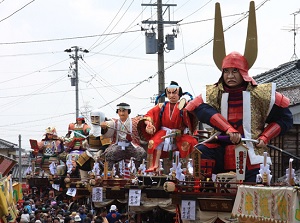 Photo by Fukui Prefectual Tourism Federation
It is the annual festival of Mikuni Shrine in Mikuni town in Sakai city.
Six decorated floats are pulled throughout the town, and the town is filled with more than 100 thousand tourists.
The symbol of this festival is the huge dolls on the floats.
They are the dolls of historic warlords, heroes or Kabuki actors, and are created newly every festival.
The people in Mikuni town have enthusiasm about creation of the big and dignified dolls.
Local foods and products in Fukui Prefecture
Echizen crab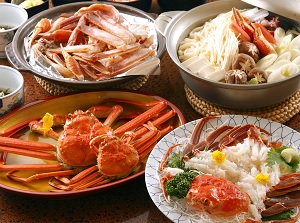 Photo by Fukui Prefectual Tourism Federation
It is the local name of "snow crab", and "Echizen crab" is the large-size male snow crab caught around Echizen area.
(Echizen is the old name of Fukui Prefecture.)
The crabs live in the cold sea at the depth of a few hundred meters, and they are caught only in the limited period from early November to the middle of March.
It is very tasty.
We can eat raw, boiled or grilled crabs.
But the price is high.
Heshiko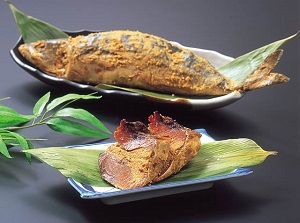 Photo by Fukui Prefectual Tourism Federation
It is the salted mackerel pickled in rice bran.
It is one of local foods in Wakasa area.
It is made by pressing the gutted and salted mackerels for a week and pickling the mackerel in seasoned rice bran for one or two years.
Heshiko is usually made in cold season, and is fermented through next warm season.
So, it is eaten after more than a year.
And it is one of preserved foods in this area.
We can eat with only slicing or after roasting.
Echizen oroshi-soba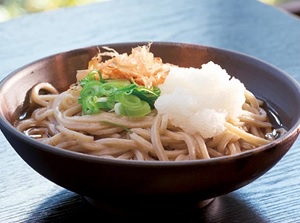 Photo by Fukui Prefectual Tourism Federation
Soba is one of the popular Japanese noodles, and the noodle is made from buckwheat.
"Oroshi" is grated daikon (Japanese radish).
Oroshi-soba is the soba noodle topped with much Oroshi.
Generally, the noodle and soup are cold.
This noodle dish was invented by Tomimasa Honda, the lord in this area, in 1601.
He encouraged the people in this area to grow soba as a survival food.
On the other hand, he was adviced to eat daikon for health by his medical adviser.
For that reason, this dish using both foods had been created.
In 1947, when Emperor Showa visited in this area, he had the oroshi-soba in a restaurant and, surprisingly, he asked for a second helping.
After the travel, it is said that he spoke about tasty soba of Echizen sometimes in the Imperial Palace.
Since that, "Oroshi-soba in Echizen" has been famous.
Echizen Bamboo Doll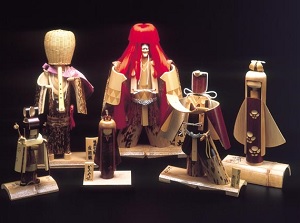 Photo by Fukui Prefectual Tourism Federation
It is a doll made of bamboo.
Baskets, vases and the other livingwares have been made of bamboo in Fukui Prefecture since a long time ago.
In the 1950s, a few artists created the doll using bamboo.
The doll won some prizes, then it became one of the famous artifacts in Fukui Prefecture.
Now the workshop and the museum are in "Echizen Takeningyo no sato" (Echizen Bamboo Doll Village) near Fukui city.
Wakasa agate work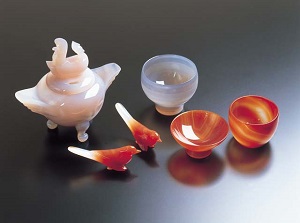 Photo by Fukui Prefectual Tourism Federation
Agate work has been created since the 8th century at Obama city in Wakasa area.
(Agate is called "menou" in Japanese.)
It is said that people from overseas settled in Wakasa area and they made the treasures of agate offered to gods first in the 8th century.
In the late 19th century, the technique to carve agate had developed, then excellent works had been created.
Once raw stone of agare had yielded around Obama city, but it is mostly imported today.
The works are carved ornaments or incense burners.