Funaya of Ine town [
伊根の舟屋

]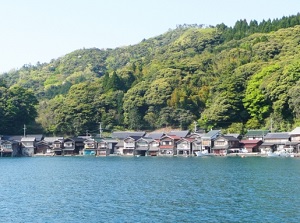 Funaya of Ine town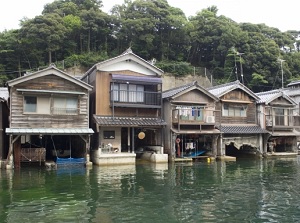 Houses of Funaya in Ine town
Ine town is located about 15 km north of Amanohashidate.
It is at the east edge of Tango Peninsula expanding northeast into the Sea of Japan.
The town has a fishing port, and there are unique houses of fisherman called Funaya.
There is Ine Bay, and the width is about 1 km.
Because a small island is at the mouth of the bay, the waves are relatively fewer than those outside of the bay.
In addition, the tidal range is small and is not higher than 50 cm.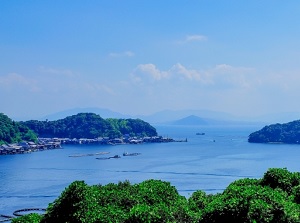 Ine Bay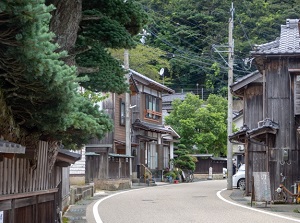 Street in Ine town
There are about 230 Funaya along the coast of Ine Bay, and the scenery is popular.
A funaya is built at the water's edge and is not so large.
The first floor is a garage of fishing boat and a workplace, and the floor has a slope to put off and pull up the boat.
And there are the living rooms on the second floor.
Such houses are along the coast continuously.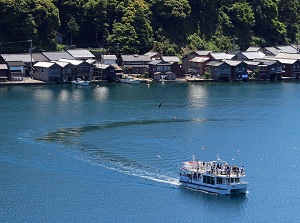 Pleasure boat in Ine Bay
Photo by Kyoto by the Sea DMO.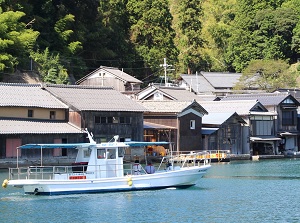 Sea taxi in Ine Bay
Photo by Kyoto by the Sea DMO.
A pleasure boat is operated from the pier to the west of Ine Bay.
It is operated every 30 minutes, and cruises around Ine Bay for about 25 minutes.
And, a few sea taxis are operated.
It cruises around Ine Bay privately, and you can see Funaya houses closer than the pleasure boat.
How to get here
By route bus, from Amanohashidate station, about 55 minutes to Inewan-meguri Hide stop (near the pier of pleasure boat), about 60 minutes to Michi-no-eki Funaya-no-sato Ine stop.
Other Tourist Attractions in Kyoto Prefecture