Gokonomiya shrine [
御香宮神社

]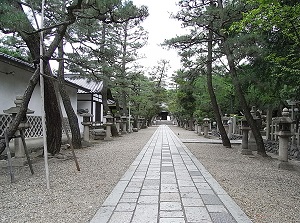 Approach of Gokonomiya shrine

Gorgeous main shrine of Gokonomiya
Photo by Kyoto Free Photo
Gokonomiya shrine is a Shinto shrine in Fushimi area.
The second "o" is pronounced long, so it is read as "Gokônomiya", and is also called "Gokôgô".
It is located about 3.5 km south of Fushimi Inari Taisha and is located about 6 km south of Kyoto station.
It is unclear when this shrine was founded, but there is a record that the buildings were repaired in 862.
At that time, a fragrant spring gushed from the shrine grounds.
In addition, it is said that the water could cure diseases.
So, the Emperor Seiwa (850-881) granted this shrine the name "Gokôgô" meaning "Fragrant Shrine")".
Toyotomi Hideyoshi ruled Japan in the late 16th century, and he constructed Fushimi Castle on a hill located about 1 km northeast of this shrine in 1592.
At that time, this shrine was moved to the site.
But, after the death of Hideyoshi, Tokugawa Ieyasu reigned the nation and established Edo Government in 1603.
He moved the shrine to the original site and current buildings were consturcted in 1605.
And the main gate of Fushimi Castle was also moved to this shrine in 1622.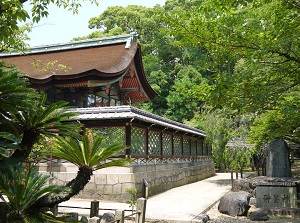 Main shrine of Gokonomiya
Photo by Kyoto Free Photo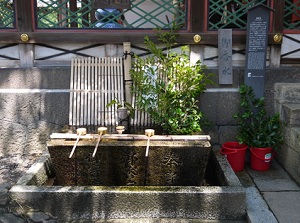 Fragrant spring of Gokonomiya
Photo by Kyoto Free Photo
The main gate moved from Fushimi Castle is at the south edge of the site.
White walls surround the site, so it looks like a big samurai residence.
There is a long approach about 150 metees long.
At the end of the approach, there is the main shrine.
Empress Jingu is enshrined in this shrine.
She lived in the 3rd century in Japanese myth.
So it is known as a shrine where people visit to pray for safe delivery.
The main shrine was the building constructed by Tokugawa Ieyasu in 1605.
Unlike commmon Shinto shrine, the decoration of the building is very gorgeous and colorful.
In addition, the fragrant spring is by the main shrine.
Many people come to drink the water.
How to get here
The nearest stations are Momoyama of JR Nara Line, Fushimi-Momoyama of Keihan Railway, and Momoyama-goryo-mae of Kintetsu Railway.
From each station, about 200 to 400 meters.
Other Tourist Attractions in Kyoto Prefecture