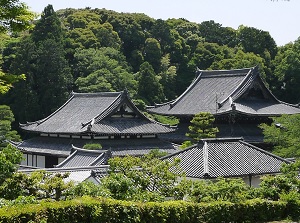 Sennyuji
Photo by Kyoto Free Photo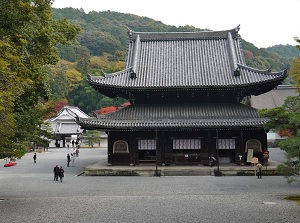 Butsuden in Sennyuji
Photo by Kyoto Free Photo
Sennyuji is a temple of Shingon Buddhism, a major school of Japanese Buddhism, and is the central temple of a branch school of Shingon Buddhism.
It is located about 0.8 km east of Tofukuji temple.
It is said that this temple was founded around 856.
But there are several theories about the origin of this temple.
The temple had fallen into ruin, but high priest Shunjo reestablished it in the early 13th century.
Shunjo had studied in Sung (current China) for 13 years, and he introduced the advanced culture to Japan.
He rebuilt the temple in Sung style.
The temple developed after that, and Emperor Go-Horikawa set this temple as the Emperor Family temple.
So the emperors from Emperor Go-Mizunoo (1596-1680, the 108th) to Emperor Komei (1831-1867, the 121th) were buried in this temple.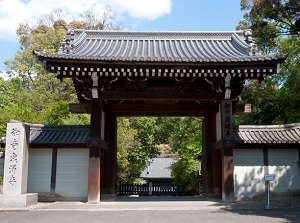 Daimon in Sennyuji
Photo by inariage.com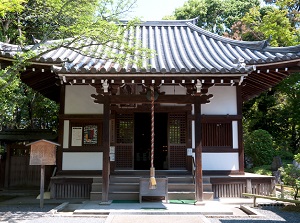 Yokihi-Kannondo in Sennyuji
Photo by inariage.com
Along the hundreds-meter-long approach, there are some branch temples.
At the end of the approach, there is Daimon gate (大門) built in the early 17th century.
After passing through the gate, we find Yokihi-Kannondo temple (楊貴妃観音堂) to our left.
"Yokihi" is the pronunciation of word in Japanese, and it is formally "Yang Guifei" which is the name of a very beautiful Chinese empress in the 8th century.
In this temple, a statue of the Goddess of Kannon has been enshrined.
It was a statue that a disciple of Shunjo took the statue back to Japan from Southern Sung (current China) in 1230.
There are some buildings in the center of the precinct.<<
Butsuden (仏殿) is the central temple built in 1668.
Shariden (舎利殿) is the important temple, and has housed the Buddha's ashes presented by Sung in 1228.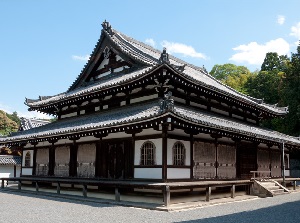 Shariden in Sennyuji
Photo by inariage.com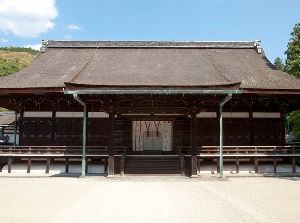 Reimeiden in Sennyuji
Photo by inariage.com
Reimeiden (霊明殿) is the temple housing the sprit tablets of all emperors and empresses since the 7th century.
It was destoyed by fire in 1882, then Emperor Meiji rebuilt in 1884.
Gozasho (御座所) next to Reimeiden is the rest house for Imperial Family, and was the building moved from Kyoto Imperial Palace.
This buildings was rebuilt in 1884.
The Japanese garden is not so big, but it is one of the attractive spots in this temple.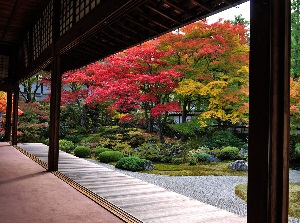 Garden of Gozasho in autumn
Photo by Kyoto Free Photo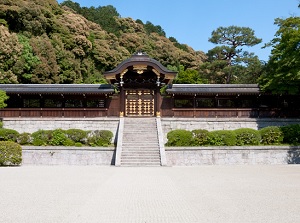 Tsukinowa-misagi in Sennyuji
Photo by inariage.com
Kaiedo (海会堂) attaching to Gozasho is the Buddhist temple, and houses more than 20 Buddha statues for former Imperial Families.
To the east of these buildings, there is Tsukinowa-misagi (月輪陵).
It is the cemetery buried tens of Emperors and Imperial Family in the 17th to 19th centuries.
By the way, in all buildings, it is prohibited to take photos and videos in this temple.
How to get here
By route bus, about 11 minutes from Kyoto station to Sennyuji-michi stop.
About 9 minutes from Gion to Sennyuji-michi stop.
Or, by JR Nara Line, about 3 minutes from Kyoto station to Tofukuji station (next station). About 10 minutes walk from there.
By Keihan Railway, the nearest station is Tofukuji or Toba-kaido.
Other Tourist Attractions in Kyoto Prefecture