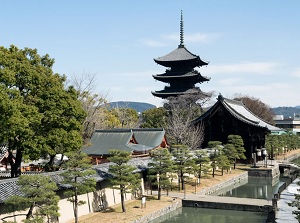 Nandaimon & Five-story Pagoda of Toji
Photo by inariage.com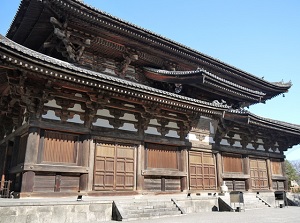 Kondo of Toji
Photo by Kyoto Free Photo
Toji is a Buddhist temple located about 1 km west-southwest of Kyoto station.
"O" in the word is pronounced long, so it is read as "Tôji".
Toji means "East Temple".
The formal name is "Kyôô-Gokokuji" (教王護国寺).
After the transfer of the national capital from Nara to Kyoto in 794, the construction of two temples were planned.
They were set up to the east side and west side of the main street at the south end of the ancient Kyoto city.
They were "Toji" (East Temple) and "Saiji" (West Temple).
Both temples were built in 796.
They were given the meanings to guard the east half amd west half of the city and to guard eastern Japan and western Japan.
Saiji was destroyed by fire in 990 and 1233, then it had fallen into ruin.
Toji was also destroyed by fire in 1486.
But Shogun families had supported this temple from the 16th century to the 19th century, so this temple had developed.
This temple is one of 17 constructions of "Historic Monuments of Ancient Kyoto" designated as a World Heritage Site.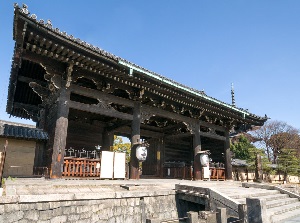 Nandaimon of Toji
Photo by inariage.com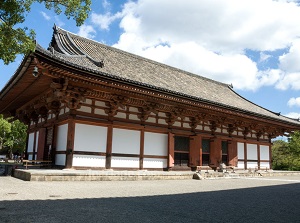 Koudo of Toji
Photo by inariage.com
The site has a rectangle shape about 300 meters from north to south and about 260 meters from east to west.
There are many buidings in the precincts.
The main gate is Nandaimon (南大門), and it is on the south side of the temple.
Kondo (金堂) is the main temple rebuilt in 1603, and is designated as a national treasure.
Koudo (講堂) is the old temple rebuilt in 1491.
21 important statues of Buddha are enshrined in this temple.
16 statues of them are designated as national treasures and the others are designated as important cultural properties.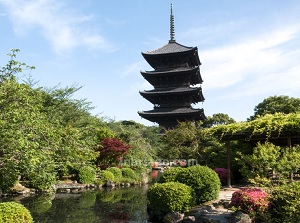 Five-story Pagoda & a pond of Toji
Photo by inariage.com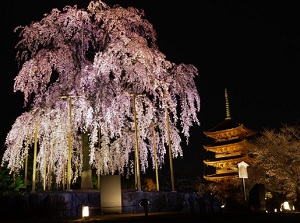 Five-story Pagoda & cherry tree in Toji
Photo by Kyoto Free Photo
Five-story pagoda (Goju-no-Tou, 五重塔) is the symbol of Toji, and is near Nandaimon.
We can see this pagoda from Shinkansen running around Kyoto station.
The height is 54.8 meters, and it is the highest wooden building in Japan.
The original pagoda was built in the 9th century, and the current one was rebuilt in 1644.
It is also is designated as a national treasure.
How to get here
By Kintetsu Railway, about 2 minutes from Kyoto to Toji station. (The next station of Kyoto)
Then, about 10 minutes walk. (About 0.6 km)
Or, on foot from Kyoto station, About 25 minutes walk from Kyoto station (Hachijo Exit). (About 1.5 km)
Hotels around Kyoto station
Other Tourist Attractions in Kyoto Prefecture