Higashi-Ushirobata rice terrace [
東後畑棚田

]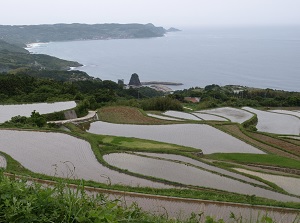 Higashi-Ushirobata rice terrace
Photo: Yamaguchi Prefectural Tourism Federation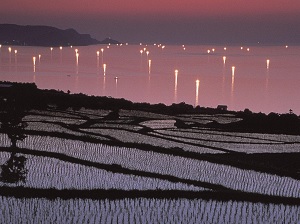 Lights of fishing boats
near Higashi-Ushirobata rice terrace
Photo: Yamaguchi Prefectural Tourism Federation
Higashi-Ushirobata rice terrace is a rice terrace on the slope near the Sea of Japan.
It is located about 17 km west-northwest of the center of Nagato city.
And it is about 2 km southwest of Motonosumi Shrine.
There are many rice terraces in this area, and this Higashi-Ushirobata rice terrace is especially popular because of the scenery.
210 small rice fields are arranged in a staircase pattern.
The total size is about 7 hectares in area.
We can view the Sea of Japan beyond the rice terrace in a northwestward direction.
So from May to early August, the view of water of the sea and rice terrace reflecting the sunset is beautiful.
Especially, in late May, many squid-fishing boats work on the sea around this rice terrace.
The view of the fishing lights on the sea is also beautiful around sunset.
For visitors, there is an observatory and a few parking lots near the rice terraces.
No route bus is operated.
The rice fields are the private land and the farmers are working to cultivate rice.
So, you should not enter the rice terraces.
How to get here
By JR San-in Line, about 12 minutes from Nagato-shi to Nagato-Furuichi (Second station).
By taxi, about 20 minutes from Nagato-Furuichi station (about 8 km).
(You should make a reservation to go to and come from the shrine.)
Hotels around Nagato city
Other Tourist Attractions in Yamaguchi Prefecture