Motonosumi Shrine [
元乃隅神社

]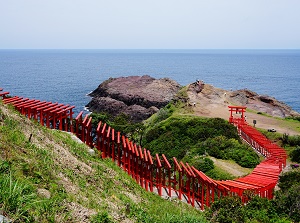 Motonosumi Shrine
Photo: Yamaguchi Prefectural Tourism Federation

Torii gates of Motonosumi Shrine
Photo: Yamaguchi Prefectural Tourism Federation
Motonosumi Shrine is a private Shinto shrine, and is located about 15 km northwest of the center of Nagato city.
The shrine is on a hill but is vary small.
A path on the slope extends from the shrine to the top of rocky cliff facing the Sea of Japan.
123 red Torii gates stand along the winding path, and the length is over 100 neters.
In 1955, a white fox appeared in the dream of a fisherman's boss in this area.
The fox commanded him to establish a shrine in the place, so he built this shrine.
By the people around the area, the shrine has been worshiped and the torii gates were dedicated from 1987 to 1996.
After CNN in USA introduced this shrine in 2015, this shrine has become popular for foreign toutists.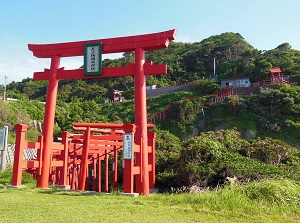 Exit of the tunnel of Torii gates
Photo: Yamaguchi Prefectural Tourism Federation

Ryugu-no-Shiofuki
Photo: Yamaguchi Prefectural Tourism Federation
Near the end of the path, there is Ryûgû-no-Shiofuki (龍宮の潮吹).
The waves of the sea wash against the cliff and the air in the cave under the cliff is pressed, then the water is spouted energetically by the pressed air.
No route bus is operated to this shrine.
So, when you visit this place, you must use a taxi or a rental car.
In addition, there is no shop and cafe around the shrine.
How to get here
By JR San-in Line, about 12 minutes from Nagato-shi to Nagato-Furuichi (Second station).
By taxi, about 15 minutes from Nagato-Furuichi station (about 6 km).
(You should make a reservation to go to and come from the shrine.)
Hotels around Nagato city
Other Tourist Attractions in Yamaguchi Prefecture