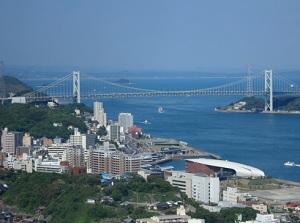 Kanmonkyo bridge from Shimonoseki side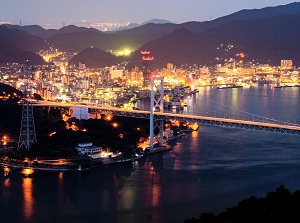 View of Kitakyushu city beyond Kanmon Straits
Photo: Yamaguchi Prefectural Tourism Federation
Shimonoseki is the city located at the west end of Yamaguchi Prefecture, and it is also the most western city in Honshu Island.
Shimonoseki is the largest city in Yamaguchi Prefecture, and is the economic center in the prefecture.
The center of the city is on the south end of the area.
The southern coast faces narrow Kanmon Straits (関門海峡) like a wide canal, and the opposite side of the straits is Kitakyushu city on Kyushu Island.
Shimonoseki has been the entrance to Korea and China by ship since ancient times.
Many ships sail through Kanmon Straits, because it is the main route connecting Seto Inland Sea and Korea, China.
The total length of Kanmon Straits is about 20 km, and the width is only 0.7 km to 2.0 km. Additionaly the route is V-shaped and the tidal currents are complex.
So it is one of most difficult water route for ship in Japan.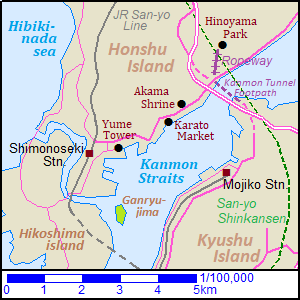 Three tunnels (railways of Shinkansen and JR, and national road) and a bridge (Expressway) run under/over Kanmon Straits, and they connect between Honshu Island and Kyushu Island.
Shimonoseki Port is positioned roughly in the center of Kanmon Straits, and there is JR Shimonoseki station near the port.
The longtime central area is located about 2 km east of the port, and is called Karato area (唐戸).
There are some old buildings, temples and shrines.
Shin-Shimonoseki station of Shinkansen is located about 8 km north of the center of Shimonoseki city.
To visit the central area, change to the train of JR San-yo Line.
It leads to Shimonoseki station in about 10 minutes.
Kaikyo Yume Tower (
海峡ゆめタワー

)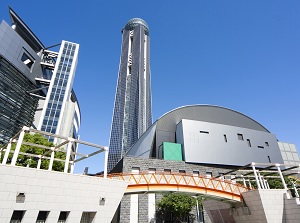 Kaikyo Yume Tower
Photo: Yamaguchi Prefectural Tourism Federation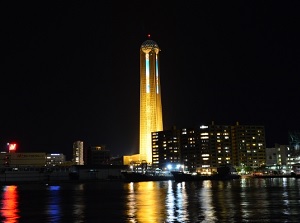 Kaikyo Yume Tower in the evening
Kaikyo Yume Tower is an observation tower located about 0.8 km west of JR Shimonoseki station and faces Shimonoseki Port.
The height is 153 meters, and the observatory room is at the level of 143 meters.
From the observatory room, we can view not only Kanmon Straits but also Kyushu Island, Seto Inland Sea, the Sea of Japan.
Historical buildings in Karato area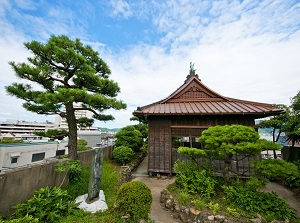 Japanese garden
on Former Akita Company Building
Photo: Yamaguchi Prefectural Tourism Federation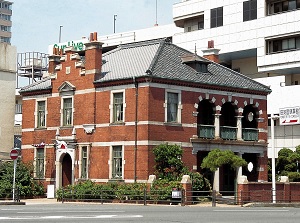 Former British Consulate
Photo: Yamaguchi Prefectural Tourism Federation
There are some historical buildings in Karato area.
Former Akita Company Building (旧秋田商会ビル) is tThe building of former maritime company built in 1915.
It is a Western-style building, and Japanese garden is set up on the top of the building.
Former British Consulate (旧下関英国領事館) is the building of Japan's third British Consulate built in 1906.
It is a Western-style brick building, and is designated as a national important cultural property.
Shunpanrou (春帆楼) is located about 0.5 km east of the center of Karato area.
It is an old Japanese restaurant of pufferfish dishes.
There is a guest house in the site, and the Treaty of Shimonoseki between Japan and China was signed in 1895, to end the First Sino-Japanese War.
This building became the memorial museum in 1937.
Karato Market (
唐戸市場

)

Karato Market
Photo: Yamaguchi Prefectural Tourism Federation

Kamon Wharf
Photo: Yamaguchi Prefectural Tourism Federation
Karato Market is the old market for citizens in Shimonoseki.
The observarory deck is set up on the second floor, so we can overlook the market.
On weekends, the first floor changes to the town of many food stands.
In addition, there is a commercial facility Kamon Wharf next to the market.
There are some restaurants of pufferfish dishes.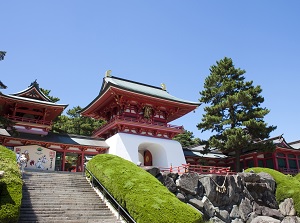 Akama Shrine
Photo: Yamaguchi Prefectural Tourism Federation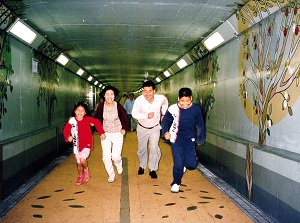 Kanmon Tunnel Footpath
Photo: Yamaguchi Prefectural Tourism Federation
Akama Shrine (
赤間神宮

)

Akama Shrine is a Shinto Shrine enshrining Emperor Antoku (1178-1185).
It is located near Shunpanrou.

He became the Emperor at the age of 2.
His mother was from Taira Clan at the helm of the government, but Taira Clan was at later stages in life.

Taira Clan was lost in the battle against Minamoto Clan around Kanmon Straits in 1185, then his grandmother with him drowned themselves in the sea.
He was only 8 years old.

After that, Minamoto Clan founded new government by samurai in Kamakura.

Dead little Emperor Antoku was buried in this place, and this shrine was founded in 1191.
The current buildings were rebuilt in 1965.
Kanmon Tunnel Footpath
Kanmon Roadway Tunnel is 3,461 meters long, and runs under Kanmon Straits.
And, along the tunnel, another tunnel for pedestrian and bicycle is set up.
The entrances to the tunnel is near the coast.
The entrance on the Shimonoseki side is located about 1 km northeast of Akama Shrine.
The length of the tunnel is 780 meters and the width is about 4 meters.
We can go to Kyushu Island on foot in about 15 minutes.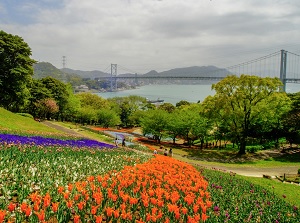 Hinoyama Park
Photo: Yamaguchi Prefectural Tourism Federation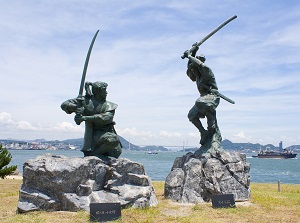 Ganryujima
Photo: Yamaguchi Prefectural Tourism Federation
Hinoyama Park (
火の山公園

)

Hinoyama Park is an observatory park on the Mount Hinoyama (268 m) located about 1 km north of Kanmonkyo bridge.
We can view Kanmon Straits and Kanmonkyo bridge from the park.

The ropeway is operated from the foot of the hill.
The station is near the entrance of Kanmon Tunnel Footpath
Ganryujima island (
巌流島

)

Ganryujima is a small and flat uninhabited island located about 1 km south of Shimonoseki Port.

Miyamoto Musashi (1584-1645) was a swordsman and fought a duel with Sasaki Kojiro in this island in 1612.

Musashi was the strongest samurai with the technique of fighting with two swords, and Kojiro was a young swordman using a long sword.

It is said that Musashi beat Kojiro, but not much is known about the fight.
Therefore many fictions about this fight such as novel, movie have been created, then most of Japanese people know this fight.

There is a park and a monument of Musashi and Kojiro is in the park.

The ship to Ganryujima starts from near Karato Market, and it takes about 10 minutes.
How to get here
Shin-Shimonoseki is the nearest station of San-yo Shinkansen.
From Shin-Shimonoseki to Shimonoseki, about 10 minutes by local train of JR San-yo Line.
But most of rapid trains of "Nozomi" and "Hikari" of Shinkansen don't stop Shin-Shimonoseki station.
Kokura station in Kitakyushu city is the next station of Shinkansen.
Because all trains stop, it is convenient to use the station.
Then get on the train to Shimonoseki of JR Line.
It takes about 15 minutes from Kokura.
Or, by airplane, Yamaguchi Ube Airport has the flights from Tokyo (Haneda).
By route bus, about 1 hour and 15 minutes from the airport to Shimonoseki station.
Hotels around Shimonoseki city
Other Tourist Attractions in Yamaguchi Prefecture