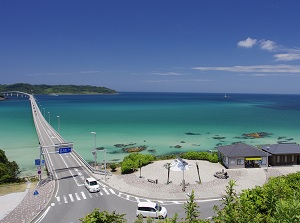 Photo: Yamaguchi Prefectural Tourism Federation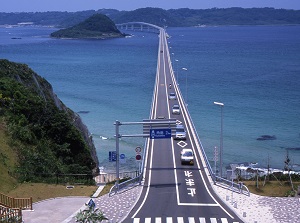 Photo: Yamaguchi Prefectural Tourism Federation
Tsunoshima Bridge ("Tsunoshima-ohashi" in Japanese) is a bridge connecting Tsunoshima island and the mainland.
It is located about 50 km north of the center of Shimonoseki city, and is on the northwestern edge of Yamaguchi Prefecture.
The bridge is 1,780 meters long and was completed in 2000.
The beautiful landscape has been popular, and it has sometimes been used in TV commercials of car.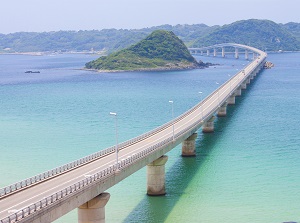 Photo: Yamaguchi Prefectural Tourism Federation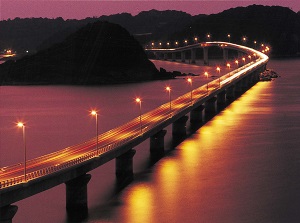 Photo: Yamaguchi Prefectural Tourism Federation
At any rate, the color of the sea is beautiful like a resort.
The water is very clear and the color changes between emerald green and azure blue.
And the the sand is white by much deposit of broken shells.
The fee to cross this bridge is free.
You can walk across the bridge, but you must look out for cars.
There is an observatory around the entrance of the bridge on the mainland.
Tsunoshima island is a small island about 4 km long.
There is a lighthouse and swimming beach in the western part.
How to get here
A route bus for Tsunoshima island is operated from Takibe station of JR San-in Line.
But, the train from Shimonoseki is operated every a few hours. (Some trains are changed at Kogushi station on the way.)
From Shimonoseki through Kogushi to Takibe, it takes 1 hour and 10 to 30 minutes.
By the route bus, about 32 minutes from Takibe station to Hotel Nishi-Nagato Resort iriguchi stop.
There is the observarory about 200 meters from the bus stop.
The bus comes back from the island in about 30 minutes.
If you can't catch the bus, you must wait for the next bus for a few hours.
Hotels around Tsunoshima island
Other Tourist Attractions in Yamaguchi Prefecture