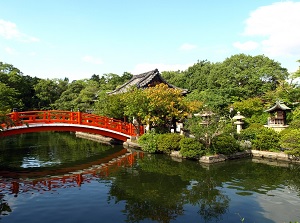 Shinsen-en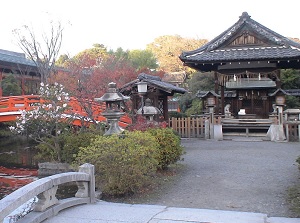 Zennyo-Ryuosha in Shinsen-en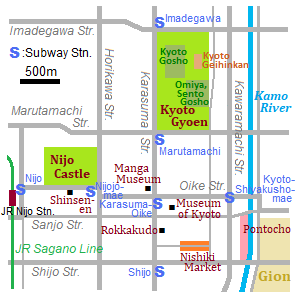 Shinsen-en is a small Buddhist temple located right south of Nijo Castle.
The site is about 90 meters from north to south and about 60 meters from east to west.
Most part of the site is a big pond, and it forms a Japanese garden.
Kyoto became the capital of Japan in 794, and this garden was constructed for the Emperor around the same time.
At that time, it is said that the garden was very wide.
In medieval times, the wide garden fell into ruin.
And when Nijo Castle was built in 1603, the size of the garden was reduced.
A priest restored this garden from 1607 to the 1620s, then it became a Buddhist temple.
There is Zennyo-Ryûôsha (善女竜王社) temple on an island in the pond.
Drought had been prolonged in the country.
So, the Emperor ordered high priest Kuukai to pray for rain in 824.
Kuukai used power of Buddhism and called a rain goddess "Zennyo-Ryûô" from India.
Then, heavy rain fell in the whole country for 3 days.
The whole nation shouted for joy.
Since that, Zennyo-Ryûô has been living in this pond.
It is said that this pond was full of water even when dry weather lasted.
She is enshrined in Zennyo-Ryûôsha.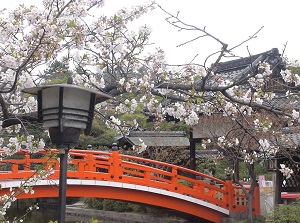 Hojobashi in spring

Hojobashi in the evening
To visit the temple, you cross Hôjôbashi bridge (法成橋).
If you cross it making only one wish in your mind, it is said that the wish comes true.
And a small shrine Ehousha (恵方社) is put on a pedestal.
"Ehou" means a lucky direction of the year, and the shrine is moved to face the lucky direction of the next year on December 31.
How to get here
The nearest station of subway is Nijojo-mae (●T14 Tozai Line).
Hotels in Nakagyo Ward
Other Tourist Attractions in Kyoto Prefecture