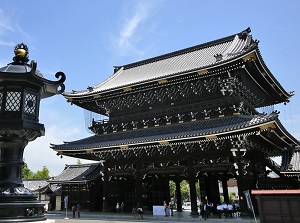 Goeido-mon gate in Higashi-Honganji
Photo by Kyoto Free Photo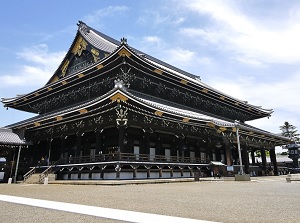 Goeido in Higashi-Honganji
Photo by Kyoto Free Photo
Higashi-Honganji is a Buddhist temple located about 0.7 km north of Kyoto station.
The east side faces Karasuma Street, and it is located to the north of Shichijo Street.
This is the temple of Jodo Shinshu, a school of Pure Land Buddhism in Japan, founded by High priest Shinran (1173-1263).
In the late 16th century, many warlords in Japan had fought desperately to dominate the country.
Even the believers of Jodo Shinshu had split into two groups which supported the opponent warlords each other.
In 1591, Toyotomi Hideyoshi, who unified Japan after the age of provincial wars, moved the temple for Jodo Shinshu to the place of current Nishi-Honganji.
After the end of the period of the war, Tokugawa Ieyasu was founded Edo government in 1603.
But the internal division of Honganji was continuing.
Ieyasu divided Honganji into two temples in that year.
One is Nishi-Honganji and the other is Higashi-Honganji.
Since that, the temples has been as the different sects of Jodo Shinshu.
Now the formal sect name of Higashi-Honganji is "Shinshu Otani-ha".
(The sect name of Nishi-Honganji is "Honganji-ha".)
Higashi-Honganji is located about 0.5 km east of Nishi-Honganji.
The buildings in the precincts were destroyed by fire several times and were rebuilt each time.
So, The current buildings were rebuilt from the end of the 19th century to the early 20th century.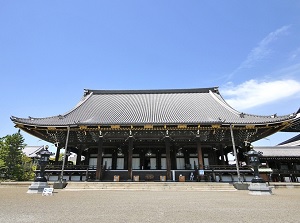 Amidado in Higashi-Honganji
Photo by Kyoto Free Photo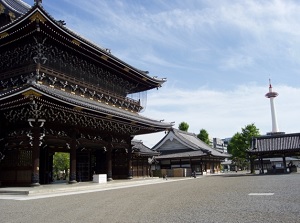 Kyoto Tower from Goeido-mon
The precinct is a square about 200 meters from east to west and about 400 meters from north to south.
The main gates are on the east side facing Karasuma street.
They are Goeido-mon gate (御影堂門) and Amidado-mon gate (阿弥陀堂門).
In front of the gates, there are Goeido (御影堂) and Amidado (阿弥陀堂).
These buildings were restored sequentially from 2004 to 2015.
By the way, there is a Japanese garden Shosei-en about 250 meters east of this temple.
It is also a precinct of Higashi-Honganji.
How to get here
About 400 meters walk from Kyoto station.
Hotels around Higashi-Honganji
Other Tourist Attractions in Kyoto Prefecture