Kyoto International Manga Museum [
京都国際マンガミュージアム

]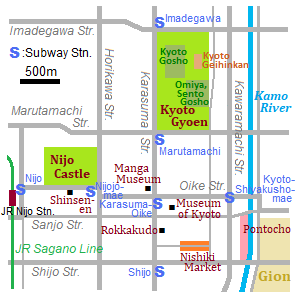 Kyoto International Manga Museum is located just northwest of Karasuma-Oike intersection of Karasuma Street and Oike Street.
It is located about 3 km north of Kyoto station.
The museum was founded by Kyoto City and Kyoto Seika University having Manga Department in 2006.
As you know, Manga is the same as comics or cartoon, but it has developed in a way unique to Japan.
Please read this page.
As a manga library, this museum houses about 300,000 articles such as Japanese magazines and books of manga from the 19th century to the present.
Of course, there are recent manga works.
Also some foreign manga works are displayed.
A closed elementary school is used as the building of this museum.
The first floor has the library of manga for boys.
The second floor has the library of manga for girls.
The third floor has the library of manga for youth.
On each floor, there is Wall of Manga which is the long and big open bookshelves.
About 50,000 manga books after the 1970s are set up in Wall of Manga (Total length is 200 meters).
And the visitors can read them freely.
Because there is a former schoolyard covered with artificial turf in front of the museum, the visitor can also read the favorite manga books on the ground.
This museum has not only the manga library but also the research facilities for manga.
So a few planned exhibitions and events are often held.
Japanese manga and anime are attracting worldwide attention now.
So about 25 percent of the visitors are foreigners, although most works are written in Japanese.
the admission fee is 800 yen.
Tickets holders can re-enter multiple times throughout the day.
You can't take photos of the manga works and displaying works in this museum.
How to get here
The nearest station of subway is Karasuma-Oike (●K08 Karasuma Line, ●T13 Tozai Line).
Hotels around Manga Museum
Other Tourist Attractions in Kyoto Prefecture