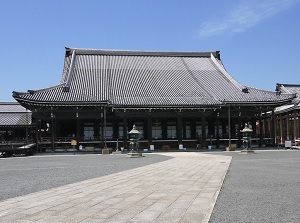 Amidado in Nishi-Honganji
Photo by Kyoto Free Photo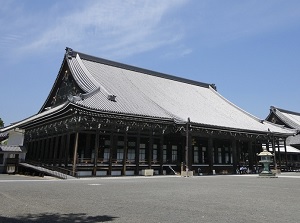 Goeido in Nishi-Honganji
Photo by Kyoto Free Photo
Nishi-Honganji is a Buddhist temple located about 1 km northwest of Kyoto station.
The east side of the site faces Horikawa Street, and it is located to the north of Shichijo Street.
(The temple itself uses the spelling of "Nishi Hongwanji".)
High priest Shinran (1173-1263) was the founder of Jodo-Shinshu, a school of Pure Land Buddhism in Japan.
It is said that his youngest daughter built a temple "Honganji" in 1272 after his death.
After that, the temple was moved from place to place.
In 1591, Toyotomi Hideyoshi, who unified Japan after the age of provincial wars, moved the temple to the current place.
In 1603, the religious school was split up into two.
One became Nishi (west) Honganji school, and another became Higashi (east) Honganji school.
Since that, this became the head temple of Nishi-Honganji school and developed.
There are more than 10,000 temples of this school all over Japan.
In the precincts, there are many buildings built around the 17th century.
Some of them are designated as national treasures, and many of the others are also designated as national important cultural properties.
And this temple is one of 17 constructions of "Historic Monuments of Ancient Kyoto" designated as a World Heritage Site.
The main gate is on the east side facing Horikawa street.
It is Goeido-mon gate (御影堂門).
And the former main gate Soumon (総門) is on the opposite side of Horikawa Street.
The precinct is a square shape with the sides about 300 meters long.
There are two big Buddhist halls in the center of precincts.
These are Goeido (御影堂) built in 1636 and Amidado (阿弥陀堂) built in 1760.
And there is Hiunkaku (飛雲閣) built in 1587 by a pond at the southeast corner of the precincts.
These buildings are the national treasures.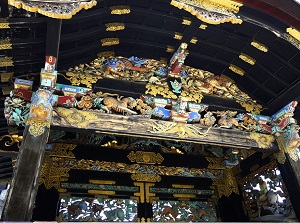 Karamon gate in Nishi-Honganji
Photo by Kyoto Free Photo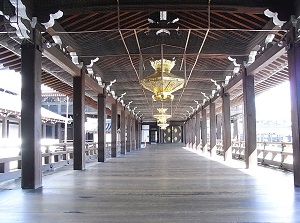 Corridor in Nishi-Honganji
Karamon gate (唐門) on the south side of the precinct is also a national treasure.
It was built in the late 16th century, and has the gorgeous decoration.
How to get here
About 1 km walk from Kyoto station.
Or, by route bus, 6 minutes from Kyoto station.
Hotels around Nishi-Honganji
Other Tourist Attractions in Kyoto Prefecture