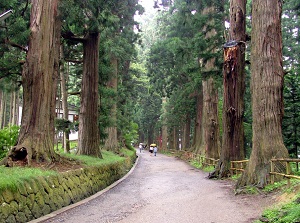 Tsukimi-zaka
Photo by Railstation.net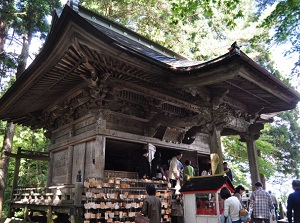 Benkeido near Tsukimi-zaka
Photo by Railstation.net
Chusonji is a Buddhist temple in Hiraizumi town.
In Japanese, the first "u" in the word is pronounced long, so it is read as "Chûsonji".
It is located about 8 km north of Ichinoseki city in the southernmost part of Iwate Prefecture.
And it is located about 1.7 km northwest of JR Hiraizumi station.
(When you visit both Chusonji and Motsuji, Motsuji is closer to Hiraizumi station than Chusonji.)
Chusonji was designated as World Heritage Site as a part of the "Historic Monuments and Sites of Hiraizumi" in 2011.
It is the head temple of the Tendai sect of Japanese Buddhism in Tohoku region.
Fujiwara Kiyohira (1056-1128, the first lord of Fujiwara clan) started building this temple in 1105, then it was completed finally in 1126.
On the way, the famous Konjikido (金色堂) hall was completed in 1124.
In 1337, big fire occured in this temple, so all buildings except Konjikido were burned down.
After that, the temple was rebuilt by Date clan in the 17th century.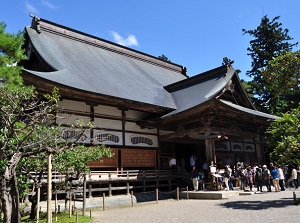 Main hall of Chusonji
Photo by Railstation.net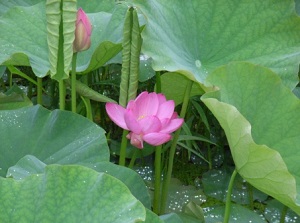 Chusonji lotus
The main hall was rebuilt again in 1909, and Konjikido also overhauled in 1962.
During the overhaul, seeds of lotus were found in the coffin of Yasuhira Fujiwara, the 4th lord, then the flower came into bloom in 1998.
It has been named "Chusonji lotus".
This temple is on a hill located about 2 km northwest of JR Hiraizumi station.
After we walk along the sloping approach named Tsukimi-zaka (月見坂), we reach the temple grounds which have many buildings dotting in a forest.
Konjikido (
金色堂

)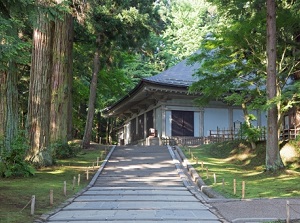 Konjikido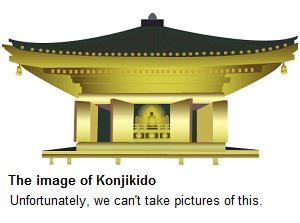 Konjikido is the most famous building in Chusonji.
"Konjikido" means "Golden temple".
As its name suggests, the whole surface of the temple is covered with gold leaf.
It was built by Kiyohira Fujiwara in 1124.
For keeping the brightness, a covering construction over the temple are built in 1288.
Since that, the main temple has been covered with such construction.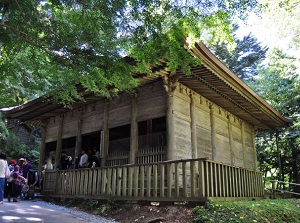 Former covering construction of Konjikido
Photo by Railstation.net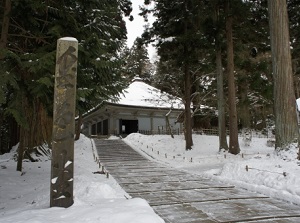 Konjikido in winter
The current covering construction was made with reinforced concrete in 1965.
And the main temple of Konjikido is in a room with large windows controlling the temperature and humidity.
The former covering construction has been moved near Konjikido.
There are three Buddhist altars in Konjikido.
Many Buddha statues are put on the altars.
And there are three coffins which are Kiyohira's (the 1st lord, 1056-1128), Motohira's (the 2nd lord, 1105-1157) and Hidehira's (the 3rd lord, 1122-1187) under each altar.
Caution:
Photography and video recording are prohibited inside Konjikido.
How to get here
By Tohoku Shinkansen, get off at Ichinoseki station.
Then, transfer to the local train for Morioka on JR Tohoku Line.
Get off at Hiraizumi station.
About 9 minutes from Ichinoseki.
It takes about 25 minutes from Hiraizumi station to Tsukimi-zaka on foot.
Hotels in Hiraizumi
Other Tourist Attractions in Iwate Prefecture