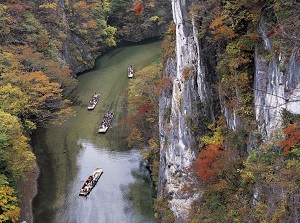 Geibikei
Photo by Iwate Prefecture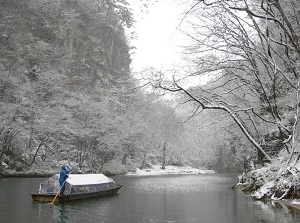 Geibikei in winter
Photo by Ichinoseki city
Geibikei is a gorge located about 14 km northeast of Ichinoseki city.
(The name is similar to "Geibikei" which is a popular gorge close to here, but the word in kanji characters is completely different.)
It is a gorge along the Satetsu River which is a branch river of Kitakami River.
The length of the gorge is about 2 km.
There are limestone cliffs over 50 meters high along the river, and strange rocks, waterfalls and limestone caves are dotted.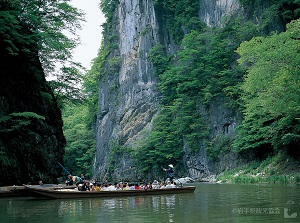 Pleasure boat in Geibikei
Photo by Iwate Prefecture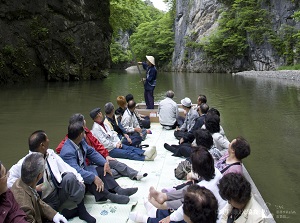 Boatman of pleasure boat
Photo by Iwate Prefecture
"Geibi" means "a nose of lion".
At the entrance of the gorge, there is a rock similar to it in shape.
A small pleasure boat is operated in the gorge.
A boatman operates the boat with only a long pole, guides us along the river and sings local ballads.
It starts every hour, and takes 1 hour and 30 minutes.
The boat returns to the starting place.
How to get here
By Tohoku Shinkansen, get off at Ichinoseki station.
Then, transfer to the local train of JR Ofunato Line.
Get off at Geibikei station.
About 30 to 40 minutes from Ichinoseki.
About 5 minutes from the station to the boat pier.
Hotels around Ichinoseki
Other Tourist Attractions in Iwate Prefecture