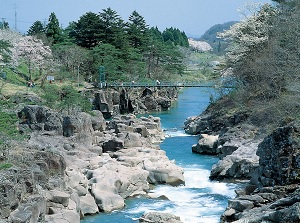 Genbikei in spring
Photo by Iwate Prefecture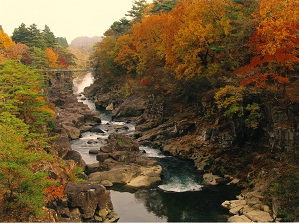 Genbikei in autumn
Photo by Ichinoseki city
Genbikei is a gorge located about 8 km west of Ichinoseki city.
It is a gorge along the Iwai River flowing from Mount Kurikoma volcano (1,627 meters high).
The length is about 2 km.
Since time immemorial, much tuff had been piled up by the eruptions of Mount Kurikoma, and Iwai River has eroded them.
So, current strange rocks and waterfalls have been formed.
Especially, on the bottom of the river, there are countless spherical holes.
They are formed by boring the rock with spinning small stones.
It is said that these are geologically important.
Masamune Date, a famous lord of Sendai Clan in the early 17th century, acclaimed the beauty of this gorge, and often visited here.
And Emperor Meiji also visited here in 1877.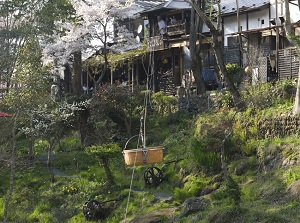 Flying dumpling
Photo by Iwate Prefecture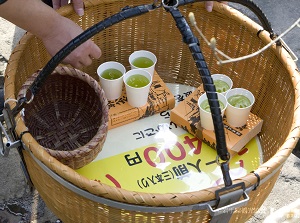 Kakkou-dango & green tea
Photo by Iwate Prefecture
In this gorge, the rice dumpling "Kakkou-dango" is popular as light refreshments.
Of course, we can eat it at its teahouse "Kakkouya" located on the opposite cliff of the gorge.
But we can eat it at the viewing place.
A rope is stretched over the gorge between the teahouse and the viewing place.
You put money for dumpling into a basket hung on the rope.
After you give a sign to the clerk in the teahouse, he/she pulls the basket.
The clerk serves your dumpling and tea, puts them into the basket, then returns it to you.
Generally this dumpling is called "flying dumpling".
How to get here
By Tohoku Shinkansen, get off at Ichinoseki station.
Then, get on the route bus for Genbikei at Ichinoseki station.
It takes about 20 minutes.
Hotels in Ichinoseki
Other Tourist Attractions in Iwate Prefecture