Tsunagi hot spring [
つなぎ温泉

]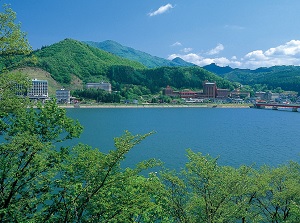 Tsunagi hot spring resort
Photo by Iwate Prefecture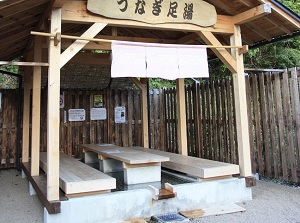 Footbath in Tsunagi onsen
Photo by Iwate Prefecture
Tsunagi onsen is a hot spring resort located about 10 km west of the center of Morioka city.
Shizukuishi River flows from west to east, and joins Kitakami River at Morioka city.
There is a dam on Shizukuishi River, and Tsunagi Onsen is located by the dam lake.
It is said that this hot spring had been opened before the 11th century.
According to legend, Minamoto Yoshiie, a strong samurai warrior in the 11th century, tied his horse to a stone then took a bath in this place.
The verb "tie" is "tsunagu" in Japanese, so this hot spring has been called as "Tsunagi onsen".
There are more than a dozen ryokan and hotels.
The hot water is alkaline, so your skin becomes smooth after bathing.
How to get here
By route bus, it takes about 30 minutes from Morioka station.
Hotels in Tsunagi Onesen
Other Tourist Attractions in Iwate Prefecture