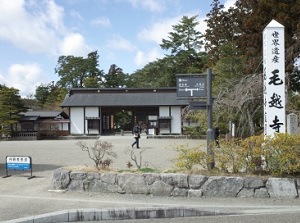 Entrance of Motsuji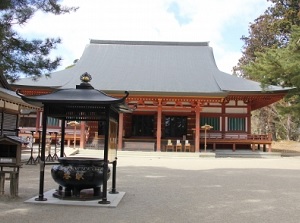 Main temple of Motsuji
Motsuji is a Buddhist temple in Hiraizumi town, and is located about 2 km south of Chusonji temple.
And, it is located about 800 meters weat of JR Hiraizumi station.
(When you visit both Motsuji and Chusonji, Motsuji is closer to Hiraizumi station than Chusonji.)
In the word of "Motsuji", "o" and "u" are pronounced long and it is read as "Môtsûji".
Motsuji was designated as World Heritage Site as a part of the "Historic Monuments and Sites of Hiraizumi" in 2011.
It is a temple of the Tendai sect of Japanese Buddhism like Chusonji temple.
Originally, it was built by Priest En-nin in 850.
But it suffered from a massive fire, so it had been burnt down.
In the 1150s, Fujiwara Motohira, the second lord of Fujiwara clan, built the great temple on this place.
It is said that the scale was larger than Chusonji temple.
However, unfortunately, it also suffered from a fire in 1226 and 1573, then this place had been a ruin for a long time.
Since 1954, the ruin was excavated and researched, then the whole picture of the original temple was clarified.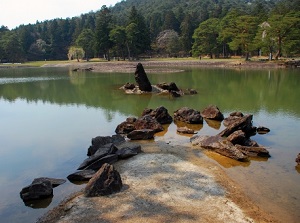 Ooizumi-ga-ike in Motsuji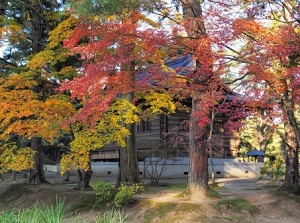 Motsuji in autumn
In the center of this site, there is a big pond Ooizumi-ga-ike (大泉が池).
And, a Japanese garden is spread around the pond.
It is named Jodo-teien (浄土庭園), and means "a garden like Pure Land where Buddha is living".
Around Jodo-teien, several remains of former buildings are dotted.
On a side of this site, there are a current main temple built in 1989 and a treasure museum.

Fujiwara Festival in Motsuji
Photo by Iwate Prefecture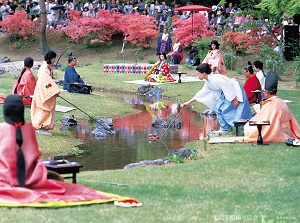 Gokusui-no-En in Motsuji
Photo by Iwate Prefecture
Many festivals are held in this temple.
Fujiwara Festival in spring is famous for the parade between Motsuji and Chusonji.
And, Gokusui-no-En (曲水の宴) is a graceful festival, and is held on the 4th Sunday in May.
Some poets wearing Japanese dresses of ancient nobility sit by a stream in Jodo-Teien.
A cup of Sake are floated on the stream, then each poet composes a short poem before the cup reaches the poet.
If he/she can't' compose a poem, he/she must drink the Sake as a penalty.
How to get here
By Tohoku Shinkansen, get off at Ichinoseki station.
Then, transfer to the local train for Morioka on JR Tohoku Line.
Get off at Hiraizumi station.
About 9 minutes from Ichinoseki.
It takes about 10 minutes from Hiraizumi station on foot.
Hotels in Hiraizumi
Other Tourist Attractions in Iwate Prefecture